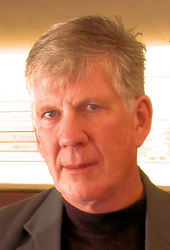 is a ripping good political thriller.
Houston, TX (Vocus) April 1, 2010
Author David Hearne will be at the Houston Indie Book Festival giving visitors of this annual event a chance to meet, talk and get a signed copy of "Hulagu's Web – The Presidential Pursuit of Senator Katherine Laforge." Hearne will be at the Subterfuge Publishing booth discussing his latest novel from 9:00 am to 5:00 pm April 3, 2010. The Houston Indie Book Festival is held at Menil Park and is a free event. The address is, 1515 Sul Ross Street, Houston, Texas.
Jim King, host and producer of the "King of the Road Show," which airs on Fox 4 KBTV of Beaumont, Texas will be on hand with his film crew recording the festivities. Clips from the event will air on a future "King of the Road Show." Book lovers who cannot make the show can still get a glimpse of the festivities and many of the event's participants by checking the Jim King airing schedule on his website, http://www.jimkingoftheroad.com, for the upcoming show.
Hearne, who has appeared on more than 50 radio shows and numerous TV shows discussing his controversial book about a Texas Senator running for President, welcomes the chance to participate in this wonderful event which introduces Indie authors and small publishers to the Houston, Texas literary crowd. Kristine Morris of Foreword Connections wrote that David Hearne's novel, Hulagu's Web, "is a ripping good political thriller." Julie Moody of NPR station KUT said "I have to say it's quite a page turner. I'm not really into politics, but the book made for an interesting read. If you need to escape from family or just want to curl up over the holidays and read a good book, try this one."
Currently David Hearne is busy with a new novel that addresses more contemporary politics. He states, "Writing is my entrée into political activism. I hope my novels will be seen as a marriage of exciting plots and unique characters that subtly enlighten readers about contemporary issues and their various viable solutions."
"Hulagu's Web – The Presidential Pursuit of Senator Katherine Laforge" chronicles the events that precipitated the deadly attack on her campaign bus and speaks of the many social and political problems Americans still continues to struggle with. The novel is considered by many as a must-read. It is a brilliant and slashing indictment of today's political scene. Hulagu's Web is an ingenious and fast moving, spiced with assassination, conspiracy, action, mystery, deception, suspense, love, hate, politics, and even faith. It provides a fresh and original way to think about democracy, political process, and corporate greed.
The Houston Indie Book Festival is in its third official year and remains the only event of its kind in the Houston and Austin areas, featuring a variety of nationally-distributed literary journals and small-press books alongside local booksellers, book and magazine publishers, small presses, literary organizations, and writers. Gift certificates and other items will be raffled off throughout the day and Houston's best and brightest writers will read from their work on the hour every hour. So take a much-needed break and see what Houston's bibliophiles have to offer!
Author David Hearne currently lives in Lumberton, TX with his wife and daughter. He is the author of numerous magazine articles and a previous non-fiction book titled "Enable Command Performance" that delved into programming concepts. His new novel titled "The Christmas Special" will be released in the fall. His current novel, Hulagu's Web – The Presidential Pursuit of Senator Katherine Laforge" will be available at the festival but is always available at Amazon.com.
# # #