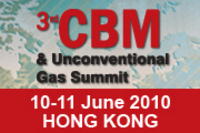 Hong Kong (PRWEB) April 6, 2010
Is Coal Bed Methane (CBM) the answer to Asia's growing energy needs?
Judging by the newly introduced and ongoing CBM regulations to accommodate growing domestic demand in Indonesia, China & India, it is clear that interest in Coal Bed Methane as potential energy source is on the rise. For this reason, CMT is bringing together key officials, top industry decision makers and CBM experts to the 3rd CBM & Unconventional Gas Summit in Hong Kong on 10 - 11 June 2010 for an intensive discussion on latest CBM regulations, investments opportunities and technological developments shaping the sector.
The two-day conference will spotlight on developments in China, which is dependent on foreign involvements to develop its over 30 trillion cubic meters of CBM and unconventional gas resources. Participants at 3rd CBM & Unconventional Gas Summit can look forward to project updates from China's major CBM and unconventional gas players Fortune Oil, Enviro Energy, Far East Energy and Sino Gas and Energy.
The conference scope also includes India's current policy and plans in developing its CBM sector to meet growing domestic demand for gas, especially in view of the recent announcement by the coal Ministry to 'take back the coalmines' that could possibly slow down its developments. The Directorate General of Hydrocarbons India, Mr. S C Sarma will be providing an update on the Indian regulatory scenario while Indian CBM developer ESSAR will unveil their current activities with CBM production in India, highlighting high points and challenges.
In addition to China & India, updates on Indonesia's new PSC scheme and changes to the mining law, as well as a showcase of CBM opportunities in Vietnam are also incorporated into the country-focused discussions at the 3rd CBM & Unconventional Gas Summit.
Completing the discussions is a roundtable on the essentials of project financing for CBM projects. Key executives from Quam Capital Ltd, Leo Kirby Capital Advisors and Macquarie Capital (HK) will showcase the mining sector as a viable investment option; breaking down the risks elements as well as the investment community's expectations and requirements for project cost-benefit analysis.
3rd CBM & Unconventional Gas Summit is already attracting participation from senior representatives of Mining Companies, Oil & Gas producers, LNG Producers, Equipment Suppliers, Water management companies, energy consulting firms, Government energy Ministries, Energy Financiers and Analysts, Drilling & Engineering Companies, Rig Companies, Compressor Technology Suppliers, Coal Operators and more...
hose who want to keep abreast of the latest on coalbed methane and unconventional gas from country-focused regulations to project and technology developments can contact Ms. Huiyan +65 6346 9113.
###