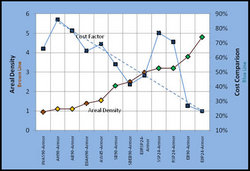 "This product offers a niche solution by being more cost competitive than other composite products in the lightweight armor category. The hybrid product supports LCOA Composites long-term vision and commitment," Robert Doherty, LCOA Composites President
Lake Forest, CA, (PRWEB) April 2, 2010
Laminating Company of America Composites ("LCOA Composites") recently expanded their product offering with a new ballistic hybrid NIJ Level IIIA multi-layered composite.
Primarily used for ballistic shields and body armor, this new hybrid is also has application in automotive armor and anywhere lightweight Level IIIA protection is required. The solution weighs less than one pound per square foot (33% less) than a standard woven Kevlar product. It has the added benefit of costing approximately 20% less than an UHMWP and 5% less than woven Kevlar.
LCOA Composites develops products using the latest process technologies for applications in the commercial cargo and blast resistant shelter applications. Fabrication processes range from epoxies and phenolics up to and including the most advanced toughened thermo sets and high temperature polymers, both thermo set and thermoplastic. All products are engineered and certified to meet and exceed your specified threat levels.
ABOUT LCOA Composites
LCOA Composites is a U.S. based laminator and part fabricator of engineered composite and renewable "green" materials used in commercial building, structural and ballistic applications. LCOA Composites develops and manufactures advanced structural and ballistic composite products for both government and commercial markets.
For more information, visit the LCOA website at http://www.lcoa.com or contact Rob Wassem, LCOA Composites at 770-552-0514 o or 770-596-9987 m or rwassem(at)LCOA(dot)com.
###