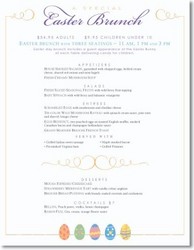 Ashland, OR (PRWEB) April 2, 2010
MustHaveMenus announced today that, according to poll data, restaurants are offering their customers Easter events and promotions this year, such as brunch and dinner. Although a number of eateries still report that they will be closed on Easter Sunday, Easter events are gaining in popularity among the food service industry.
"While Easter brunch remains a favorite, we've been surprised at the number of restaurants having Easter dinner, too," said Jim Williams, CEO of MustHaveMenus, the leading provider of restaurant menu designs, graphics, and marketing guides for the food service industry.
According to the poll conducted by MustHaveMenus, 40% of restaurants are serving Easter dinner, while 25% plan to offer Easter brunch. Twenty-two percent of eateries are having no events or will be closed Easter Sunday.
More family-friendly and kid-friendly events are also being offered. Restaurants reported planning Easter egg hunts, coloring contests, and even a visit from the Easter Bunny during the meal. The Langham Huntington Hotel, in Pasadena, California, is offering an upscale Easter brunch on April 4, complete with an Easter egg hunt for children in their outside garden.
"The Langham Huntington Hotel is a special place in the community where people come to celebrate," said Executive Chef Denis Depoitre. "The Easter egg hunt is great for the kids and we introduce new items to the brunch menu every year."
"Events like those offered by the Langham Huntington Hotel prove that Easter is a key day on the restaurant promotional calendar, " said Williams. "We're seeing that more MustHaveMenus customers are downloading Easter brunch menus, Easter dinner menus and Easter flyers this year."
About MustHaveMenus
MustHaveMenus is the marketing partner for thousands of independent restaurants and caterers, dedicated to offering its customers the best resources to maximize profits and success in the food service industry. A leading provider of professionally designed menu templates online, MustHaveMenus also offers customers the Menu Editor, an online menu creation tool that allows restaurateurs to create, save, update, and print custom menus. Customers can register for a free seven-day trial at MustHaveMenus.
# # #