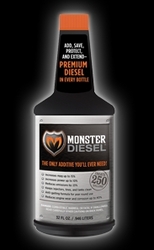 "This formula may be dynamite in a bottle…in the figurative sense."
Baltimore, MD (PRWEB) April 2, 2010
Alkane, Inc.'s (ALKN.PK) flagship product, Monster Diesel™, was featured on this week's episode of PBS®'s MotorWeek. Viewers nationwide tuned in for the broadcast, which premiered this past weekend.
The show spotlighted Monster Diesel™'s unique attributes, focusing on how the additive allowed a three cylinder tractor engine to be converted to a street-legal, diesel-powered motorcycle. Since motorcycles are not typically diesel-powered, the fact that Monster Diesel™ could provide the significant power increase needed to convert the engine captured MotorWeek's attention.
"Dr. Mat Zuckerman (of Monster Diesel™) saw a void in the diesel industry and wanted to correct it. So…he came up with a solution that could change the way we look at diesel," said Steven Chupnick, Reporter and Associate Producer for MotorWeek. "This formula may be dynamite in a bottle…in the figurative sense."
"We were thrilled with the show and the fact that MotorWeek recognizes our product's differentiators," said Christina Angel, Director of Marketing for Monster Diesel™. "We are pleased to be associated with such a prestigious automotive television program."
Click here to view Monster Diesel™'s segment on MotorWeek.
MotorWeek is a production of Maryland Public Television. For more information, visit http://www.mpt.org/motorweek/.
About Monster Diesel™
Monster Diesel™, flagship product of Alkane, Inc. is a patent pending high energy "green" alternative fuel additive which boosts diesel fuel's quality to premium levels and is designed for use in any diesel powered motor. The additive offers a comprehensive, cost effective solution to address each of the challenges common to diesel powered engines, all in one product. Monster Diesel™ increases mileage per gallon by as much as 15%, reduces emissions by 23%, boosts power, reduces wear, and winterizes fuel.
Visit http://www.MonsterDiesel.com for more product information, news and analysis, and information on how to order Monster DieselTM branded products.
Monster Diesel™ and the logo are trademarks and are property of Alkane, Inc.
About Alkane, Inc.
Alkane, Inc. is dedicated to the development of a family of alternative fuels and additives which, collectively, will contribute to a solution to the global energy crisis. Additional benefits of Alkane, Inc.'s product offerings include positive environmental impact through the reduction of harmful emissions and reduced vehicle operation and maintenance costs.
Forward Looking Statements:
This press release contains certain forward-looking statements. Investors are cautioned that certain statements in this release are "forward looking statements" and involve both known and unknown risks, uncertainties and other factors. Such uncertainties include, among others, certain risks associated with the operation of the company described above. The Company's actual results could differ materially from expected results.
Brokers and Analysts
Contact:
Equiti-trend Advisors, LLC
800.953.3350
Media
Contact:
Beth Mullennex
Barb Clapp Advertising & Marketing
410.561.8886
# # #