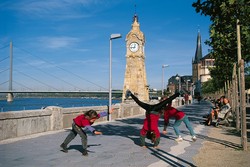 Düsseldorf, Germany (Vocus) April 6, 2010
The city of Düsseldorf has been in love with cartwheels since 1288, legend has it. Now part of the cityscape, every visitor will come across the image of a cartwheel sooner or later, or even have children offer to perform them for money (a nickel or a dime a piece), as they do to passersby on the street all year long. The city founded an annual cartwheel championship in 1937, and now up to 700 boys and girls from up to 15 countries compete every year. The next event will take place June 20, 2010.
As an expression of joy, doing cartwheels these days certainly makes sense, as Düsseldorf ranks #6 on a list of global cities in terms of quality of life (Mercer Human Resource Consulting 2009). But there is more to the city's love affair. The tradition is said to have started in 1288, when Düsseldorf was granted town charter after a fierce battle and children ran into the streets doing cartwheels to celebrate. Another legend talks about a boy who jumped and held the wheel of Prince Jan Willem's carriage for safety after it broke in an accident, turning himself into a living wheel. Yet another legend credits a cartwheeler with cheering up Countess Jacobe von Baden, the unhappy bride-to-be of Johann Wilhelm. Unfortunately, her moment of joy in Düsseldorf didn't last: her miserable ghost is said to be the "Woman in White" haunting Düsseldorf's Castle Tower to this day.
The city is also filled with references to and statues of cartwheelers, the most famous being Cartwheel Fountain in the city's historic Old town. Even manhole covers and the doorknob at the famous Lambertus Church feature cartwheels, and they are one of the most popular Düsseldorf souvenirs.
Teams of boys and girls in the age groups 8-10 and 11-12 from schools in several countries compete in the championship. The children race each other doing cartwheels over a distance of 50 – 65 feet. It takes place outdoors at Düsseldorf's Carl Square in the district Carl-Stadt. More than 700 children are expected to participate in 2010.
For more information on the Cartwheel Championship, please visit http://www.visitduesseldorf.de. Düsseldorf, only a short distance from many major destinations, makes possible easy travel to the Rhine-Ruhr area, Cologne, Belgium, and the Netherlands, as well as many opportunities for short and long-term stays.
Düsseldorf International Airport, Germany's third largest, offers several non-stop flights from US & Canadian cities (Atlanta, Chicago, Ft. Myers, Los Angeles, Miami, New York, Newark, San Francisco, Toronto, Vancouver), as well as convenient connections to many European cities and beyond.
Düsseldorf Tourism & Marketing GmbH is the visitors and convention bureau of the city of Düsseldorf. Its services include tourism and city marketing, conference and meeting marketing, hotel reservation services, fairs and convention services, city event ticket sales and advance ticket reservations. For more information, visit http://www.visitduesseldorf.de.
###