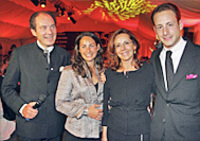 Participants will receive a free Vinum XL tasting set valued at $122.99
Owenton, KY (PRWEB) April 3, 2010
Maximilian Riedel of the Austrian glassmaking dynasty will conduct a wine tasting at Elk Creek Vineyards, Kentucky's largest winery, on Saturday, May 15, 2010, from 6:30 – 8:30 PM. A limited number of tickets are available for this prestigious event which also features an exhibit of Thomas Arvid's wine art.
Thirty-two-year-old Riedel, CEO of Riedel Crystal of North America, conceived the "O" stemless glass series and co-designed several decanters and collections. He will acquaint participants with glass structure and varietal-specific design, pairing these attributes with Elk Creek Vineyards award-winning wines. Palate-pleasing Kenny's Cheeses will also be served.
Elk Creek Vineyards is the sole Arvid dealer in Kentucky; Thomas Arvid's work is distinguished by oversized still life compositions of wine and the rituals surrounding its consumption.
Riedel Tasting Event tickets are available online at elkcreekvineyards.com
Elk Creek Vineyards, nestled among the rolling hills of Kentucky in Owenton, was established in 2003. Located approximately one hour from Lexington, Louisville and Cincinnati and two hours from Indianapolis, Elk Creek offers a wide choice of reds and whites that are produced and bottled on-site. The destination, which also features an outdoor summer concert series, B&B lodging and a deli, is an ideal venue for weddings and other special events.
# # #