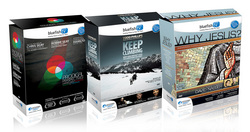 We set out to create these three Bible studies to help people not just talk about their faith, but to live it out.
Dallas, TX (PRWEB) April 6, 2010
Are adult Bible study classes and small group ministries really that important in the church today? Bluefish TV has spoken with thousands of denomination pastors who have expressed that they are vital to the mission of the church.
Every week, millions of believers gather to study God's word, pray together and care for each other. These groups hold many churches together. And just like in college or seminary, the curriculum matters. Bluefish TV's goal is to create solid content that is the catalyst for discipleship and life transformation.
"If I took Spanish class for 15 years and never spoke it outside the classroom, people would think I am crazy," said Brian Mosley, President of Bluefish TV. "We set out to create these three Bible studies to help people not just talk about their faith, but to live it out."
Why Jesus? features an interview with American Idol semi-finalist, Jason Castro, and includes teaching from author and minister David Nasser. Hosted by Mac Powell and filmed on location all throughout Israel, Nasser answers the most important question every person will have to answer: Why should I follow Jesus?
Keep Climbing features an interview with NFL Pro Bowl tight end, Jason Witten, and is taught by young adult pastor and author Todd Phillips. Todd leads a team to Russia to climb Mount Elbrus, the tallest mountain in Europe. He uses their perilous trek as a backdrop to explore how God works through the challenges in life to build character.
Prodigal Perspectives features an interview with Major League Baseball all-star, Josh Hamilton and his wife Katie, and includes teaching from Chris Seay, pastor of Ecclesia Church in Houston, TX. Chris teaches from the story of the Prodigal Son in the Bible through the eyes of the younger son, the elder son, and the father as performed in separate, dramatic films by professional actor, Jason Hildebrand.
"From Israel, to Russia to backstage in a theater, our team loved creating three distinct and unique studies that can help bring the Word of God alive," said Mosley.
Bluefish TV will continue to create quality resources that lead to life transformation and help send people out on mission.
The 2010 Adult Bible Study Kit is available to preview and purchase at BluefishTV.com along with hundreds of other resources for adults and youth.
About Bluefish TV:
Bluefish TV is a non-profit Christian video ministry that has produced video sermon illustrations and small group Bible study resources for youth groups and pastors for over 25 years. Bluefish TV has worked with Christian leaders including Erwin McManus, Louie Giglio, Donald Miller, Todd Phillips, Margaret Feinberg, Beth Moore, Doug Fields, Drs. Les and Leslie Parrott, Mercy Me, Chris Tomlin, David Crowder and Jars of Clay to produce relevant resources for 93,000 churches across the country. Bluefish TV also has a passion and commitment to world missions and has participated in projects around the world to tell missionaries' stories of faith and sacrifice.
You can view full video previews and purchase each small group study and video illustration at http://www.bluefishtv.com. Some Bluefish TV resources can also be found in stores and on the websites of their ministry partners: LifeWay, Cokesbury, Mardels, Family Christian and Simply Youth Ministries.
###