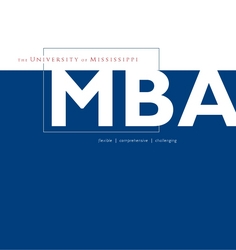 "The Ole Miss MBA Speaker's Edge series is helping students and judges Experience Amazing!"
Oxford, MS (PRWEB) April 9, 2010
The Ole Miss Business School was recently ranked in the top 5% of all business schools around the country by US NEWS and World Report. The Ole Miss Campus MBA boasts high quality research faculty, a distinguished speaker series which brings top executives to campus each week, a mentor program that matches each MBA with a professional in industry, and an extremely dedicated alumni base. Additionally Ole Miss MBA graduates strong communicators, largely due to their Speaker's Edge Competition, a nationally renowned public speaking contest for MBA students. The deadline to apply is April 15th for the Summer term, July 1st for the Fall term and November 1st for the Spring term. However, the Campus Program is extremely flexible, allowing for multiple program start dates. For working professionals, Ole Miss MBA offers an online Professional MBA program. The Ole Miss MBA program is growing rapidly, and invites America's top talent to be a part of something truly spectacular in the world of business education! Apply today at http://www.olemiss.edu/gradschool/applyonline.php to discover a revolutionary MBA program!
###