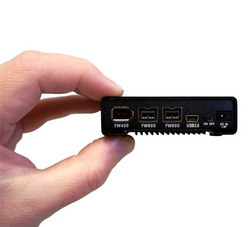 We're proud to offer the new Minipro product line, which provides a huge capacity in a small 2.5 inch form-factor," states Steve Oyen, Owner of Oyen Digital.
Saint Paul, MN (PRWEB) April 5, 2010
Oyen Digital LLC, a leading provider of high-performance storage solutions, announced the release of the newly designed MiniPro™ series of 2.5" bus-powered portable hard drives. The series includes a 1TB (1.0 Terabyte) model, making it the highest-capacity portable hard drive available. For flexibility and convenience, the MiniPro™ series is equipped with a variety of connection methods including USB 2.0, FireWire 800/400 and eSATA. The series features an attractive rugged housing, measuring 4.9-inches x 0.9-inches x 3.1-inches, using durable aluminum construction for reliable shock protection and heat dissipation.
Oyen Digital's MiniPro™ is compatible with Windows XP, 2000, Vista and 7 as well as Mac OS 9.2 (and higher) and Linux 2.6 (and higher). All drives include NovaStor NovaBackup 11 (Windows) or Prosoft Data Backup 3 (Mac OS X).
MiniPro™ Product Details:

Capacities: 160GB to 1.0 TB
Dimensions: 4.9" x 0.9" x 3.1"
Guaranteed: 3 year warranty
Connections: USB 2.0; FW400/USB; FW800-400/USB; eSATA/USB
MSRP: starting at $99.95
Visit Oyen Digital for more information on the MiniPro™ Portable Hard Drive Series as well as the full line of Oyen Digital external hard drives and RAID systems.
About Oyen Digital, LLC:
Oyen Digital is an innovative developer and manufacturer in the portable storage industry, specializing in fast, secure storage of all forms of information including digital video, audio, and system files. Offering a complete range of desktop and portable solutions, the product line features technologies such as USB, FireWire and eSATA storage solutions. Headquartered in St. Paul, Minnesota, the principals and founders of Oyen Digital have been active and successful in technology industries for the past 15 years. Through strategic relationships with software manufacturers like Novastor and Prosoft Engineering, and with storage partners Western Digital, Samsung and Seagate, Oyen Digital offers a comprehensive suite of storage solutions.
# # #