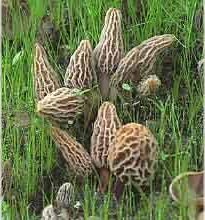 "This year I again harvested a bumper crop of 5 – 7 inch and larger morels from my Morel Habitat; the largest I have ever seen! I had so many I froze some and even gave some to my neighbors."
Sebastopol, CA (PRWEB) April 5, 2010
Gourmet Mushroom Products has been providing morel mushroom growing kits and other environmentally friendly products to the public for over two decades. Nat t., who has been growing morels in her San Francisco Bay Area yard for many years, said: "This year I again harvested a bumper crop of 5 – 7 inch and larger morels from my Morel Habitat; the largest I have ever seen! I had so many I froze some and even gave some to my neighbors."
Each spring avid morel hunters drive and hike for hours to fields and forests across the United States in hopes of finding the elusive and delicious morel mushroom. This year, think no father than your backyard! Over 20 years ago, the Morel Habitat Kit was developed so everyone could enjoy growing morels in their own backyard and have a personal supply of fresh Morchella esculenta the "good to eat", large, late season white morel. Morel Habitat morels have the same flavor and quality as morels found in the wild. The Morel Habitat can supply an individual with pounds of morel mushrooms in a garden area as small as 4 - 5 square feet.
Morel Habitats are perennial and may be started any time your soil is workable – Spring, Summer, Fall and even Winter (in areas with a mild climate). Morel Habitats may be started in any type of soil and have produced morel mushrooms in all areas of the United States that have a definite transition from winter to spring. We provide spawn (seed) which contains our unique morel strains and will allow you to seed a back yard Morel Habitat which is guaranteed to produce morels in a properly maintained 4 square foot area. Typically, only a few pounds of morels are found the first spring it produces; the next year often provides better crops; crops will then vary in size in subsequent years. Customers have found morels in their Habitats 21 years after they were established!
The Morel Habitat is ecologically sound and actually allows you to improve the environment by recycling biodegradable material instead of adding it to already overburdened land and sea sites. You probably already have everything needed to grow pounds of morels, since everybody with a yard has most of the materials essential to creating and maintaining your Morel Habitat. Thorough instructions for preparing and maintaining your Morel Habitat are included.
All Components of GMHP Mushroom Kits are Recyclable as are all materials used to pack & ship the kits. Spawn Certified 100% Organic in the United States by Quality Assurance International (Certificate No. 103491-A).
More information @ Eco Site Award Recipient: http://www.gmushrooms.com
James Malachowski
GMHP, PO Box 515, Graton, CA 95444
###