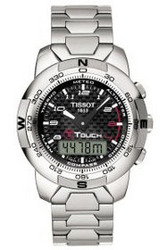 The T Touch Classic watch has finally been presented to the world with a grand showcasing at Baselworld, the world famous watch show held annually in Switzerland.
(PRWEB) April 4, 2010
Tissot became market leaders for innovation through their development of high-tech watches together with their use of materials, the outcome being the advanced functionality of their designer watches. Innovation is evidently very important to Tissot, and as a result, informs everything they do.
The eagerly anticipated update of the T Touch Classic watch clearly embodies the Tissot ethos of innovation and quality, and also its commitment to making excellence accessible. Those who know the T Touch Classic watch well will be familiar with its original, pioneering features; namely its tactile quartz multi functioning movement, tactile multi functioning dial and polished titanium bracelet together with a barometer, an altimeter, thermometer, compass and an alarm.
Tissot have now added additional features to the original specification of the classic T Touch to produce the second generation T Touch classic. This new edition T Touch now boasts all of the features of the original T Touch plus the benefit of water resistance (100 meters), making the new T Touch classic an ideal sports watch.
This hi-end functionality is contained within a discreet case, measuring 43mm in diameter and 12mm in depth. The overall appearance of the watch is therefore slighter than that of the Tissot T Touch Expert, but the T Touch Classic still maintains equally comparable features.
Tissot have ensured that the second generation T Touch Classic is accessible by means of a competitive pricing strategy – the new watches are not expected to cost too much more than their predecessor. http://www.hotwatches.co.uk will be one of the first official UK retailers to offer the T Touch Classic.
So 2010 promises to be an exiting year for fans of Tissot watches as they have vowed to continue to be leaders within their market place, with technological advancement once again high on the agenda.
###