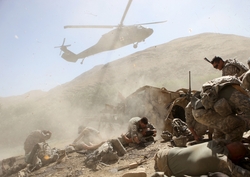 CTM will work to save lives by raising scholarship funds that will be used to increase the lifesaving capabilities of the people who enter crisis and austere environments
Wilmington, NC (PRWEB) April 6, 2010
The Coalition for Tactical Medicine (CTM), a new national non-profit will raise funds for scholarships to pay for tactical medical training and education for people who risk their lives daily.
Local police, EMS, SWAT teams, and soldiers will be able to apply for scholarship funding. In addition, doctors, nurses, school principals and other non-traditional personnel who would also benefit from having tactical medical skills may be eligible. CTM's Mission: Strengthen the lifesaving capabilities of tactical medical providers worldwide.
"Many of the people joining the Coalition have witnessed the death of someone due to the lack of tactical medical training or education. Limited budgets can hinder their abilities to acquire these skills," said CTM Board of Director Chair Jessica Perkins. "CTM will work to save lives by raising scholarship funds ]that will be used to increase the lifesaving capabilities of the people who enter crisis and austere environments," said Perkins.
CTM will also educate through their website and free membership blog, MEDMASH. Members will have the opportunity to add comments and share experiences related to the content. When complex issues arise, MEDMASH moderator Ted Westmoreland, a retired Army Special Forces soldier and tactical medical trainer, will tap into CTM's Knowledge Management Team, a group of subject matter experts to help answer questions and clarify information.
"MEDMASH will be a conduit for the sharing of operational medical practices between civilian and military sectors," said MEDMASH moderator Ted Westmoreland. "We will be an active, knowledge gateway where members will access relevant commentary about tactical medicine and also be linked to other reliable news and information sites and organizations," said Westmoreland.
Presently, CTM seeks the financial support to effectively launch the scholarship program. Broadly, scholarship funds will be available to all, military personnel, medical and non-medical civilian first-responders and tactical first-responders crucial in crisis situations. Also, related personnel who may have affiliation with military, governmental, municipal and law enforcement agencies or who represent a sector of developing need (i.e. educators). For more information contact Barbara Nicely at 910-799-9357.
###