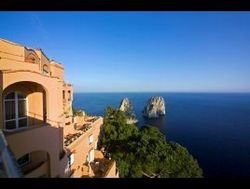 "We handpicked these three exceptional Italian resorts for membership with Elite Luxury Travel," states Greg Schwab, President of Elite Luxury Travel. "We feel their addition goes even further to solidify us as the premier hotel representation agency."
Garden City, NY (PRWEB) April 5, 2010
Elite Luxury Travel is pleased to announce three new Italian additions to its distinguished membership roster. The CastaDiva Resort on Lake Como, Hotel Gladiatori Palazzo Manfredi in Rome, and Hotel Punta Tragara on the cliffs of Capri have all joined the US based hotel representation agency to establish strong relationships with key US travel agents.
Elite Luxury Travel was founded in 1992 by George Schwab in order to provide sales and marketing consulting services to the hospitality industry. Since then Elite has become synonymous with luxury travel in Europe, promoting luxury travel packages at some of the world's finest spa, golf and ski resorts. Elite has since expanded its services to hotels outside of Europe to include the U.S. and Costa Rica.
On the Lake: CastaDiva Resort
On the banks of Italy's Lake Como, tucked into an expansive, serene garden, lies the CastaDiva Resort with its stylish accommodations in a collection of distinctive mansions with names inspired by operatic heroines, from "Violetta" to "Leonora." Opening in May 2010, CastaDiva's centerpiece will be the 18th-century Villa Roccabruna, the one-time residence of opera singer and Bellini muse Giuditta Pasta.
From a majestic pool floating right over the lake, to charming garden paths wending past little brooks, to a spa evoking the elements of water, earth, fire and air, CastaDiva offers world-class renewal to a privileged few. The spa's relaxation area, housed in a historic 19th-century dock, have chaise lounges placed dramatically on a glass floor suspended over the water. Fine Italian cuisine will be showcased at the resort's two exceptional restaurants, Le Jardin and Orangerie.
Just beyond the resort, guests will find endless diversions: seven golf courses, hiking, and watersports ranging from diving to boating. Charming villages along Lake Como beckon visitors to explore streets steeped in tradition and cultural delights. Back at CastaDiva, luxurious guest rooms and suites, stylishly dressed in Como's famous silks, will await with the promise of romantic views of moonlight on the lake.
In the City: Hotel Gladiatori Palazzo Manfredi
In the heart of ancient Rome, the elegant Hotel Gladiatori Palazzo Manfredi welcomes guests with authentic Italian hospitality and an unsurpassed attention to detail that sets it apart among the finest hotels in the Eternal City. Its 16 guest accommodations are stylish and sumptuous, with beautifully draped windows that open to reveal breathtaking views of the Colosseum and other historic monuments.
Art aficionados will appreciate the hotel's exceptional collection of artworks, which is interspersed with rotating exhibitions by well-known artists, thanks to a cooperation with leading Roman art galleries and the Associazione Italiana Artisti.
Guests can choose to explore the city via the hotel's sleek Lamborghini Gallardo, available for daily rental, or simply stroll the magnificent Via dei Fori Imperiali to attractions ranging from the Piazza Venezia and Quirinale Palace to the Trevi Fountain and Via Condotti, Rome's most exclusive and elegant shopping street.
On the Shore: Hotel Punta Tragara
Carved from a cliff's edge on the island of Capri, overlooking the waters of Marina Piccola and its dramatic Faraglioni rock formation, the Hotel Punta Tragara caters to a select few guests with unequaled hospitality and unforgettable views.
This intimate hotel, with only 44 rooms and suites – no two alike – was originally a private villa designed in 1920 by famed architect Le Corbusier. Its rich history also includes a turn as the headquarters for the American Command in World War II. Count Manfredi acquired the villa in 1968 and opened its doors to guests as the Hotel Punta Tragara, taking its name from its setting at the end of the road to Punta Tragara, one of the most treasured spots on Capri, known for its panoramic vistas.
Each of the hotel's guest rooms and suites is positioned to make the most of the cliffside locale, with balconies affording private views of the shimmering bay and expansive windows flooding the rooms with natural light.
Guests can enjoy two seawater swimming pools, indulge in a pampering treatment at the luxurious new UNICA Beauty & SPA, and dine on inspired Mediterranean classics by candlelight at the Monzu Restaurant – each vantage point offering yet another picture-perfect view.
Elite Luxury Travel works with travel agents and guests to arrange special courtesies and all details needed to ensure a flawless travel experience. Visit us to learn more about the new Italian resorts and to explore all of our international luxury vacation possibilities at http://www.eliteluxurytravel.com or call 1-877-437-1060.
###