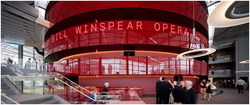 We are especially thankful for the outstanding performance of our supply chain who worked tirelessly with us through lean principles to deliver this iconic project successfully
Houston, TX (PRWEB) April 5, 2010
Texas-based Linbeck Group was awarded the grand prize for the 2009 top construction project, Dallas' new Bill and Margot Winspear Opera House in the AT&T Performing Arts Center, the Associated General Contractors of America announced on March 19th.
"Linbeck has proved an invaluable partner in the building of this magnificent venue. In both the preconstruction and construction phases of this project, Linbeck held to the highest standards in both the quality of construction and in overcoming the many design and budget challenges that a project of this magnitude provides," said Douglas T. Curtis, General Manager and former Vice President of Design & Construction for the AT&T Performing Arts Center.
The 2,220 seat building, designed by London-based architectural firm Foster+Partners, is wrapped in a red glass enclosure and covered by a four-acre, aluminum-clad, steel solar canopy. The structure accommodates opera, musical theater, ballet and dance programs and was completed on-time and on-budget in October 2009.
"We are honored to be acknowledged by our peers in receiving the Grand Prize," said Paul Sipes, Senior Project Manager for the Linbeck Group. "We want to thank the AT&T Performing Arts Center for making this project possible and all collaborators who have made it a success."
"We are especially thankful for the outstanding performance of our supply chain who worked tirelessly with us through lean principles to deliver this iconic project successfully," said Chuck Greco, President and CEO.
About the Aon Build America Award:
As the construction industry's "Oscars", the Aon Build America Awards are given in recognition of excellence in the construction industry. These prestigious and highly coveted awards are given to projects selected by a panel of a contractor's toughest critics -- other contractors. Judges look for projects that have excelled in the following areas: State-of-the-art advancement, excellence in project management, innovation in construction or use of materials, contribution to the community, superiority in client service, rising to the challenge of a difficult job and sensitive treatment of the environment and surroundings.
About Linbeck. Linbeck is a Houston-based, national construction management company offering construction management at-risk, design/build and related construction services. Since the firm's inception in 1938, the company culture is based on integrity and trust. Using its integrated, collaborative TeamBuild® approach and lean construction principles, Linbeck helps clients minimize risk & waste through lean construction practices and achieve optimal business outcomes. Linbeck is ranked among the Top 10 Construction Managers by Building Design & Construction Magazine and among the Top 150 Building Contractors in the USA by Engineering News Record. Linbeck operates offices in Texas (Houston and Fort Worth), Massachusetts (Waltham), California (Redwood City) and South Carolina (Spartanburg). Since 1992, Linbeck has won six Aon Build America awards and two Aon Build America merit awards. In 2009, Linbeck won the 2009 prize for the Co-Cathedral of the Sacred Heart project in Houston.
###