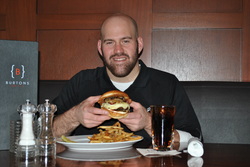 We have a very loyal customer that makes it a point to come to our location during the season
Boston, MA (PRWEB) April 4, 2010
It's only days before the official opening of baseball season in Boston, MA (which is very serious business in Red Sox territory). Within days, 4 Yawkey Way, home to the famous Fenway Park, will host thousands of loyal fans, filling area businesses and restaurants. One New England-based restaurant group that has always benefited from the busy season is Burtons Grill. With locations throughout New England, including their Boston, MA location just steps from Fenway Park, the restaurant's business more than triples during Red Sox home games. "We have a very loyal customer that makes it a point to come to our location during the season," said General Manager of Burtons Grill, (Boston) Bridget Kelly.
This year Kevin Harron, CEO of Burtons Grill, decided to utilize this upsurge in his business by partnering with Red Sox infielder Kevin Youkilis and his charity Kevin Youkilis Hits for Kids, which is dedicated to improving the health and well being of children.
"When deciding how we could utilize one of our busiest seasons to lend a hand, Kevin Youkilis Hits for Kids seemed like a perfect fit. We're known for many things at our restaurants, but our burgers are definitely a standout favorite in the city and Kevin is a huge burger fan, so the
connection just made sense" said Kevin Harron, CEO of Burtons Grill.
The rest is R & D history. Kevin Youkilis Hits for Kids and Burtons Grill came together to create the "Youk Burger" available at all New England Burtons Grill locations beginning opening day! Designed by Kevin Youkilis and Culinary Director of Burtons Grill, Denise Baron, the 100% all-beef burger loaded with American cheese, shredded lettuce, crispy onions and Burtons Grill special sauce served with fries and a pickle, will cost customers $13.95 with $2.00 from each purchase going directly to Kevin Youkilis Hits for Kids. Customers can modify Kevin's combination by adding any items they'd like for an additional cost.
The Youk Burger ($13.95) will be available at all New England-based Burtons Grill locations including: North Andover, MA, South Windsor, CT, Hingham, MA and of course the Boston, MA location, smack-dab in the middle of Red Sox Nation. The Burtons Grill and Kevin Youkilis Hits for Kids partnership is dedicated to raising $10,000.00 for the charity. "We're excited to havepartnered with Burtons Grill and are looking forward to hitting our goal," said Melanie Myers, Director of Events, Kevin Youkilis Hits for Kids.
Regardless of how you take your Youk Burger, just take one! Enjoy one of New England's best burgers, created by one of Boston's best players, on the best team, knowing you're also helping a well deserving charity.
*Note: The Youk Burger is available to both Yankee Players and fans at the slightly higher cost of $100.00.
###