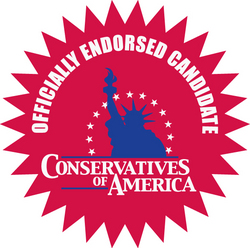 J.D. Hayworth is the kind of conservative we can count on to stand up to the Obama Administration in its consistent efforts to nationalize every major industry and bring socialism to America
Glencoe, MO (PRWEB) April 2, 2010
Conservatives of America today officially endorsed J.D. Hayworth for the U.S. Senate in Arizona.
"Just as Barry Goldwater did in 1964, and Ronald Reagan in 1980, the U.S. Senate races in Arizona and Florida this year will define the future of conservatism in America," said Bill Murphy, Founder of Conservatives of America.
In making the endorsement, Conservatives of America noted that J.D. Hayworth has been a consistent, rock-solid conservative voice over the years. He has led the fight to lower taxes, protect Second Amendment rights, protect the Right to Life for the Unborn, and combat illegal immigration and strengthen security along America's borders.
"J.D. Hayworth is the kind of conservative we can count on to stand up to the Obama Administration in its consistent efforts to nationalize every major industry and bring socialism to America," said Bill Murphy. "He will not act like a conservative a few weeks or months before the election and then cut deals and work with the Obama Administration right after the election," Murphy added.
America is at a crossroads and now is the time for conservatives across America to take a stand and support patriots like J.D. Hayworth who want to return America to the principles upon which it was founded.
Conservatives of America is a national, grassroots conservative organization dedicated to reducing the size of government, lowering taxes, promoting fiscal sanity, protecting the Right to Life for the Unborn, preserving the Right to Keep and Bear Arms, having a strong national defense, staying on the offense in the "War on Terror," and securing America's borders. Recently, Conservatives of America has emerged as America's leading conservative organization dedicated to training grassroots conservative activists and the conservative movement. The organization is also sponsoring a petition calling for the repeal of healthcare reform.
Find out more at conservativesofamerica.com or call toll-free at 877-429-1776.
###