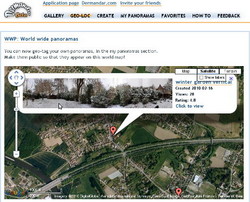 5 seconds to turn 20 photos into a fullscreen interactive panorama !
New York, NY (PRWEB) April 4, 2010
Dermandar is a newcomer in the jungle of panoramic tools. It does not pretend to replace the advanced professional softwares, but offers to a wider range of users the simplicity of a "one-click" solution.
It is free and browser-based, so there is no need to download and install anything before trying it. There is no registration process, unless one would like to use the social features that are available through the Facebook application (publish on wall, send to friend).
A user only have to use a digital camera (a camera integrated in a cell phone will make it) to shoot few photos (from 2 to 6 photos for a partial panorama, 7 and up for a full 360 cylindrical panorama), turning right to left or the opposite. The only constraint is to have enough overlap between two neighbour photos, this 2 minute video tutorial is more than enough to be ready to go.
Real estate agencies would like to use it to promote their online ads, the property owners may take the photos themselves and post them to the agency website.
Coming features are: virtual tours, spherical panoramas, gigapixels panoramas.
# # #