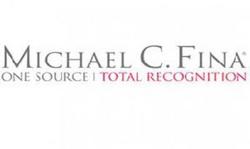 New York, NY (PRWEB) April 5, 2010
Michael C. Fina, a leading provider of global employee recognition solutions, today announced the appointment of Eileen Nolan to the position of Total Recognition Director for the Western Region. Reporting to Chief Operating Officer Steve Linn, Nolan will be responsible for overseeing a team of Total Recognition Strategists and driving overall sales, account management and strategic planning for the region.
"Eileen is a proven leader with a perfect blend of experience in sales, business development, engineering and manufacturing, as well as Human Resources," said Steve Linn, Chief Operating Officer for Michael C. Fina. "She understands motivation and engagement, and what it means to the productivity of an organization, which gives her unique insight to the diverse employee recognition needs of our customers."
Nolan was previously Vice President of Institutional Equity Sales for JP Morgan Securities and additionally held sales positions at Piper Jaffray. Her Human Resources experience includes six years with General Mills in various HR support roles, as well as manufacturing experience with James River Corporation.
Nolan is a veteran of the US Army. She holds a Bachelor of Science degree in General Engineering from United States Military Academy, West Point. She is based in San Francisco.
About Michael C. Fina
Michael C. Fina provides innovative solutions to improve the effectiveness of an organization's employee recognition strategy. Through their proven One Source Total Recognition® approach, Michael C. Fina delivers cohesive celebration strategies that align with the business objectives and core values of an organization.
Headquartered in New York since 1935, Michael C. Fina is a family-owned and operated business whose recognition solutions and expertise are relied upon by many Fortune 500 companies. With both domestic and international capabilities, Michael C. Fina is able to provide consistent, efficient, and appropriate employee recognition programs worldwide. For more information about Michael C. Fina employee recognition programs call (800) 999-3462, email salesinfo(at)mcfina.com or visit http://www.mcfrecognition.com.
This press release was distributed through PR Web by Human Resources Marketer (HR Marketer: http://www.HRmarketer.com) on behalf of the company listed above.
###