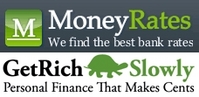 I guess the positive way to look at the low return environment is that it can be empowering
Foster City, CA (PRWEB) April 5, 2010
As the old adage goes, "Fool me once, shame on you; fool me twice, shame on me." According to a recent poll conducted by MoneyRates.com and GetRichSlowly.org, Americans seem to be vowing not to get fooled again when it comes to their savings. Having been witness to Ponzi schemes, the real estate bubble, accounting scandals like Enron and Worldcom and the collapse of some large hedge funds, many have apparently decided to stay away from investments altogether and err on the side of caution when it comes to building wealth.
According to Richard Barrington, personal finance expert for MoneyRates.com, this is not such a surprising revelation. "While bank rates are at historically low levels, it is understandable why many people aren't keen on stocks and bonds," he says. "Despite a decent recovery over the past year, the S&P 500 is still down about 19 percent over the past decade and 10-year Treasury notes reached a 50-year low in yield at the end of 2008. While those yields have recovered somewhat, they are still less than 60 percent of what 10-year Treasuries have yielded historically on average."
Fully one-third (33 percent) of those polled said that most of their money is in savings accounts and checking accounts. What did the remaining poll respondents report they are doing with their savings?

Stocks (23 percent)
Diversified portfolio (21 percent)
Fixed-income investments/bonds (7 percent)
What savings? (16 percent)
Taking out those who had no savings invested, savings and checking accounts were the favored place for parking funds for 40 percent of poll respondents.
This conservative approach to savings means that Americans will need to save more money to be prepared for retirement. "I guess the positive way to look at the low return environment is that it can be empowering," says Barrington. "After a decade of seeing investment returns let them down, people may find the best way to build a nest egg is to do it themselves through higher savings rates."
Whatever the reason for the conservative asset mix, Barrington sees one clear message in the poll's results: "If the emphasis of your finances is on deposit accounts, then it is well worth your while to be an active banking customer. Look for deals that minimize or eliminate your checking account fees. Look for bank rates that are better than the national average. Right now there are rates available that are several times the national averages for savings accounts, money market accounts and CD rates. If that's where your money is, then that's where your time should be spent."
Barrington's detailed analysis of the poll results can be found at http://www.money-rates.com/news/Savings-Accounts-and-Checking-Accounts-The-Least-of-All-Evils.htm.
Results of this poll come just as GetRichSlowly.org promotes National Financial Literacy Month in April. Through the coming month, GetRichSlowly.org will be highlighting basic financial concepts, starting with a post listing the financial resources blogger J.D. Roth has developed and collected over the past five years that touch on all the different savings and investment options mentioned in the poll.
Visitors to both MoneyRates.com and GetRichSlowly.org can access educational articles and interest rate reports to help them with setting and achieving their financial goals in any economic situation.
MoneyRates.com has been a leading source of information on bank rates, personal finance, savings accounts and investing since 1999. The site provides the highest rates on certificates of deposits, money market accounts and high-yield savings accounts.
GetRichSlowly.org is an online community devoted to sensible personal finance. Since 2006, GetRichSlowly.org has provided thousands of active readers with a forum to learn about and discuss saving money, eliminating debt and pursuing practical paths to accumulating wealth. The site is among "The Top 100 Personal Finance Web sites," according to Liz Weston of MSN, and has been named "The Most Inspiring Money Blog" by CNN's Money magazine.
Richard Barrington of MoneyRates.com and all writers at GetRichSlowly.org are available for interviews on this and other topics relating to personal saving and investing. To request an interview, please contact:
Jessica Austin
650-578-6880
pr(at)GetRichSlowly(dot)org
pr(at)MoneyRates(dot)com
# # #