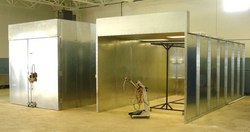 By 2009 we had hundreds of projects under our belt, resulting in millions of dollars in revenue, but Reliant Finishing Systems was practically unknown because our equipment was almost always relabeled.
Somerville, AL (PRWEB) April 2, 2010
Reliant Finishing Systems announced today that they have entered into an agreement that will position SprayBoothSupplies.com as the premiere online outlet for Reliant's popular powder coating booths and powder curing ovens. The arrangement signals a shift in the way Reliant products have been marketed to end-users and may significantly impact the "batch" coating equipment market.
Reliant confirmed that their recent collaborative efforts with leading paint booth and heat system manufacturer, NorAM Inc., were related to the decision to work with industry newcomer, SprayBoothSupplies.com. As part of the plan, SprayBoothSupplies.com will begin shipping filters and maintenance parts for equipment from both Reliant and NorAM.
SprayBoothSupplies (http://www.sprayboothsupplies.com) and Reliant (http://www.reliantfinishingsystems.com) will target the industrial and automotive markets in a joint effort. They will seek end-users who want to maximize their fuel savings without reducing productivity. "We have been impressed with the enthusiasm and confidence that Spray Booth Supplies has shown when talking with potential customers about our equipment. We feel certain they will be an effective national-level distribution partner," said Mr. John Thomason, Reliant's Executive Vice President.
The new products that will be sold by SprayBoothSupplies.com have many advantages over systems currently used within the industry. Versions that meet California's emission guidelines are already in production. Adding to the appeal of these products is the fact that the heat systems mount at floor level in a vertical configuration, reducing maintenance costs.
Mr. Michael Schuerer, President of Reliant Finishing Systems, feels that the timing of Reliant's decision to work with SprayBoothSupplies.com is perfect. "The large volume of OEM and private label sales we enjoyed during 2006 and 2007 certainly spurred Reliant's growth. We knew that we needed to partner with a company that could help us propel our own brand forward, but it was hard to find a good fit. By 2009 we had hundreds of projects under our belt, resulting in millions of dollars in revenue, but Reliant Finishing Systems was practically unknown because our equipment was almost always relabeled. When looking for companies to sell our equipment under the Reliant brand, we had a tough time finding partners that were committed to treating smaller customers and new powder coating businesses with the same respect as larger industrial clients. It became clear that there was a shortage of online sales outlets that did business in a way that made us comfortable. SprayBoothSupplies.com was an exception. We felt at ease with SprayBoothSupplies right from our first meeting. They were obviously ready to treat our customers in a friendly, ethical and professional manner. The decision to work with them was easy. The fact that they have an unmatched degree of web savvy didn't hurt," he said.
SprayBoothSupplies.com caught the attention of competitors, equipment manufacturers and industry insiders with their rapid growth in 2009. Like Reliant, they were looking for the right company to partner with long-term. Mr. Schuerer commented, "They came out of nowhere. The amount of web presence they have secured in such a short time is remarkable. Nobody in our industry has even come close to matching their pace online."
SprayBoothSupplies.com's President, Mr. Manolo Diaz-Marta, agrees that the relationship will help reshape the market. "There's plenty of cheap powder coating equipment on the Internet right now, but most of it offers lackluster performance. Until now, online shoppers looking for brand name equipment have typically had to deal with regional distributors or settle for less impressive products from economy-oriented manufacturers. Reliant's equipment has always offered premium performance, but for many customers there wasn't an easy way to get access to Reliant's products. By working directly with Reliant Finishing Systems, we can provide both superior performance and low prices. With the recent upgrades to their oven line, I think our customers will be getting even more bang for their buck," he said.
Mr. Chris Davis, President of NorAM Inc., another manufacturing company that builds finishing equipment, thinks the new partnership will be a good fit for Reliant. "The decision makers at Reliant are obviously trying to stir up the market. They have a lot of confidence in their new products. Offering Reliant-branded equipment through SprayBoothSupplies.com will probably give both companies a big sales boost."
Beginning in April 2010, over 150 Reliant powder coating oven models and over 200 Reliant powder spray booth models will be available at the Sprayboothsupplies.com website.
# # #