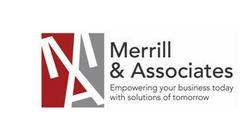 As our business grows, it is important to our customers that we continue to add valuable resources
Brea, CA (PRWEB) April 4, 2010
Merrill & Associates, a Platinum Avaya Partner and Solutions Provider, today announced two key personnel additions to their technical team. Lenin Rodriguez, CTO, made the announcement.
"As our business grows, it is important to our customers that we continue to add valuable resources," said Lenin Rodriguez, CTO. "Adding Brian Holzinger and Frank Little allows us to continue to deliver the type of outstanding service that our customers have grown to expect from us."
About Frank Little:
Frank Little, Software Specialist – With over 40 years of experience in Telecommunications, Frank comes to Merrill after 10 years as a Software Specialist for Avaya. Prior to this, Frank was a technician over a span of 20 years with Pacific Telephone, AT&T, and Lucent. His extensive background in software and programming has allowed him to program systems all over the world.
About Brian Holzinger:
Brian Holzinger, Project Manager & Contact Center Specialist – Brian joins Merrill after two years of running a Call Center environment. He specializes in designing call centers and streamlining efficiencies, while managing large-scale implementations. Brian also has a background in video conferencing and project deployments.
About Merrill & Associates:
Founded in 1989 Merrill & Associates is a Platinum Avaya Business Partner and has strategic partnerships with Cisco, Extreme Networks, Juniper Networks, NetIQ, Polycom, Tandberg and many others. Merrill delivers scalable, cost-effective solutions tailored to a customer's communications needs. They provide end-to-end support from design, implementation, testing, maintenance, and technical support.
Merrill & Associates won the 2009 Catalyst Telecom Enterprise Growth Award for its achievement in growth
# # #