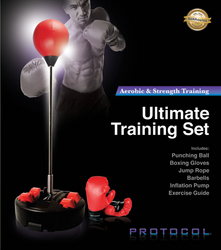 "This kit is perfect for the professional athlete, the fitness buff who enjoys working out at home, or the guy who just found out his cholesterol is running a little high and wants to take action." - Robert Goldy, CEO of Protocol
New York, NY (PRWEB) April 5, 2010
Protocol, one of the leading manufacturers of men's gifts in the U.S., is pleased to announce the launch of its Ultimate Training Set in stores across the country beginning April 1. The Ultimate Training Set is slated to further Protocol's reputation as the retail industry's preferred source for the cool, innovative and opportune.
The Ultimate Training Set provides everything the fitness fan needs to start and maintain a healthy workout program that promotes increased strength and agility. The boxed patented kit includes a punching ball (the base for which can be filled with water or sand), padded boxing gloves, barbells, and a jump rope. Also included is a link to an online user-friendly exercise guide that offers boxing strategies and barbell exercises for biceps, triceps and shoulders, along with challenging jump rope maneuvers.
"This kit is perfect for the professional athlete, the fitness buff who enjoys working out at home, or the guy who just found out his cholesterol is running a little high and wants to take action," said Robert Goldy, CEO of Protocol. "Professional trainers and people who care about their fitness level know that the basic tools included in the Ultimate Training Set can produce observable results very quickly. The tools are high-quality, long lasting, and lots of fun, like every product we manufacture."
Protocol's Ultimate Training Kit retails for about $60.00. It can be found at Macy's, GNC: General Nutrition Centers, Lord & Taylor and other major department stores. (Availability at these and other retail outlets is subject to display strategies and store locations.)
For more information about Protocol, visit http://www.ProtocolNY.com or call 800-261-1193 for an inventive experience.
About Protocol
Protocol develops and manufactures upscale, design-oriented gift and housewares products for people who appreciate high design. Its customers include major retail chains, specialty stores, and independent gift retailers throughout the U.S. and in several foreign countries. Protocol was incorporated in 1990 as The Ashley Collection, Inc. and distributed European-made silver, glass and pewter gifts for its first five years. In January 1995 the company launched its own line of contemporary products, all marketed under the Protocol trademark, and it now conducts business exclusively as Protocol.
###