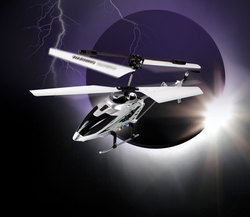 "We surveyed everything out there before we chose the specifications for choppers we wanted to make. And we continue to watch carefully as the technology continues to improve." - Robert Goldy, CEO of Protocol
New York, NY (PRWEB) April 5, 2010
Protocol, one of the leading makers of men's gifts in the U.S., is pleased to announce the recent introduction of its latest line of indoor and outdoor remote-controlled helicopters, extending its position as a favorite retail industry source for the cool and unusual.
While Protocol's vast line of gifts includes a variety of ultra-unique items for kids, pets and consumers generally, the 20-year-old company has made men's giftware its focus. For the last several years, the company's remote-controlled helicopters have proven to be a leisure-time preference for hobbyists at all skill levels.
"I started building model airplanes when I was nine and never stopped," said Robert Goldy, CEO of Protocol. "During a study break at college -- one of many I confess -- I modified a paper airplane design I found in a book and launched it from a fourth floor balcony. It soared so high for so long it got too small to see. Surely it's an unofficial world's record, and I'm absolutely convinced it is still up there somewhere 30 years later!"
Goldy continued, "Protocol launched 'officially' in 1995, and one of our first product lines was men's premium shaving accessories. But my lifelong love of aircraft muscled its way into the business plan. Luckily for Protocol, technological advancements coupled with the associated cost efficiencies created big opportunities for the introduction of high-quality, precision control, hobby-class helicopters into our product line, at prices well within reach of the average person. They've remained our best sellers ever since."
Protocol's helicopter line, which will be featured on their newly re-designed Web site at http://www.ProtocolNY.com (launching in April) combines realistic physical details with state-of-the-art engineering. Helicopter devotees appreciate the superior metal-frame construction and control sensitivity. While costing not much more than the toy-grade variety, Protocol hobby-grade indoor and outdoor helicopters (like their water craft, including their popular Radio Control Submarine) offer superior maneuverability and can be enjoyed for years.
"Our home is like an airport, and these days I fly my craft with my kids," added Goldy. "I can honestly say that I know the target audience for these products as well as I know myself. We surveyed everything out there before we chose the specifications for choppers we wanted to make. And we continue to watch carefully as the technology continues to improve. Most recently, we proudly introduced helicopters that feature gyroscopic stabilization to further enhance the precision flying experience."
Protocol's helicopters and other remote-controlled craft range in price from $30 to $100. They can be found at Macy's, Best Buy, Lord & Taylor's and other major department stores. (Their availability at these and other retail outlets is subject to seasonal display strategies and store locations.)
For more information about Protocol, visit http://www. ProtocolNY.com or call 800-261-1193 for an inventive experience.
About Protocol
Protocol develops and manufactures upscale, design-oriented gift and housewares products for people who appreciate high design. Its customers include major retail chains, specialty stores, and independent gift retailers throughout the U.S. and in several foreign countries. Protocol was incorporated in 1990 as The Ashley Collection, Inc. and distributed European-made silver, glass and pewter gifts for its first five years. In January 1995 the company launched its own line of contemporary products, all marketed under the Protocol trademark, and it now conducts business exclusively as Protocol.
###