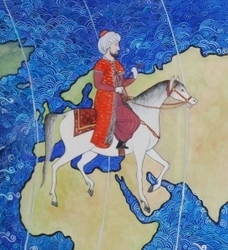 There are lots of opportunities to meet people and they are incredibly kind and hospitable. It was one of the biggest highlights of the ride for me
Dubois, Wyoming (PRWEB) April 6, 2010
Equitours (http://www.ridingtours.com) announces the start of the Great Anatolian Ride 29 August 2010 following in the path the historic pilgrimage to Mecca made by the famous Turkish historian, traveler and writer, Anton Celebi in 1671. The route is so well off normal tourist paths that inhabitants of these remote areas find tourists a curiosity and give them a friendly welcome. It is a journey through forests and rich, cultivated fields, over hills, down valleys, past towering mountains, around marshes, across hillsides, and into picturesque villages. The trip also includes tours of Istanbul, one of the world's most beautiful and interesting cities by almost any standard, as well as Bursa (ancient capital of the Ottoman Empire and an important point on the fabled silk route across Asia from China). Several TV companies have agreed to do documentary films of the ride in 2011.
"There are lots of opportunities to meet people and they are incredibly kind and hospitable. It was one of the biggest highlights of the ride for me," said Susan Wirth, Massachusetts, who did the scouting ride in 2009
Traveling through Turkey you can see the fascinating remnants of civilizations left by Hittites, Greeks, Romans, early Christians, Byzantines and Ottomans. Istanbul, formerly Constantinople, was the great center of Christianity after the fall of Rome until it was finally captured by the Ottoman Turks in 1453. In our obsession with western culture we have tended to forget the huge power and far flung empire of the Ottomans which at one time encompassed not only Asia Minor, but a big chunk of the Near East, southeastern Europe and Egypt. The Turkish armies twice laid siege to Vienna and nearly captured the city in 1683.
"Having ridden along positively pinching ourselves that we were finally doing what we had for so long longed to do, and that we were not dreaming but actually riding across this beautiful, open, hospitable countryside and seeing so many historical treasures, we can confidently say that we think others would enjoy the experience. Imagine the pleasure of hours in the saddle under a mild September sun, splashing through rivers, riding through shady groves, trotting and cantering along earthen tracks, and stopping in picturesque villages to drink Turkish tea in delicate little glasses with our friendly hosts. What could be better?" writes Donna Landry, professor of English at Kent University and well known Ottoman scholar who helped scout the trip in 2009.
Today Turkey, a strong American ally, is making rapid strides toward economic improvement while preserving its rich culture in cuisine, architecture, literature and art. This large country is still largely unspoiled by modern development and one can traverse much of it on horseback with few worries about fences, paved roads and rights-of-way. The old horse culture flourishes and horses are often still used for agriculture and transport. The rural countryside is ideal for equestrian vacations. The landscape is beautiful and varied with mountains, valleys, marshes, forests and fertile fields. One traverses villages which retain much of the flavor they had centuries ago and there is often a chance to stop and visit places of particular historical interest. Ancient crafts like pottery and rug weaving thrive and magnificent carpets are for sale at a fraction of US prices.
"It is seldom that we can find such an ideal combination of taking a fascinating historical journey while practicing a sport which has been a favorite of mankind for millennia," says Bayard Fox, Founder of Equitours, America's oldest and largest horseback riding tour company.
The dates for this 17 day trip are 29 August – 14 September and 14-30 September and the price is about $4,000. There are 11 days of riding and 11 nights of tented camping on thick foam rubber mattresses. The pace is quite slow so that no great equestrian skill is required. See http://www.ridingtours.com/horseback-riding/turkey-the-great-anatolian-ride.cfm for details on this trip. Call an Equitour ride consultant at 800-545-9019 or email bfox(at)wyoming(dot)com
###