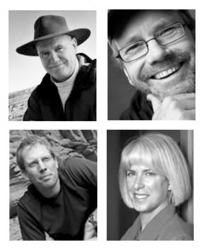 "Jerry Courvoisier is, plain and simple, one of the best teachers of digital workflow and image management working today. He demystifies the digital world for both the beginner and the advanced user. —Joe McNally, photographer
Santa Fe, NM (PRWEB) April 5, 2010
Said Courvoisier, "My colleagues and I offer the best value and most information in this field: a serious 2-day hands-on workshop for just $395. Our workshops offer an experiential, personalized, interactive approach to learning. Participants bring their laptops with the current version of Lightroom installed and we dig in straight away with practical applications for the software and workflow time-saving tips. We like to say, 'You'll learn by doing, then walk away knowing.' This approach is essential to personalizing your own digital workflow."
Adobe Lightroom allows users to download, organize, manage, develop, and present digital photography using their own laptops. It is considered essential for today's digital photography workflow.
In addition to Courvoisier, Lightroom Workshops are led by George Jardine, one of the original Adobe Lightroom team members; Michael Clark, internationally published extreme sports and outdoor photographer; and Nevada Wier, award-winning photographer, specializing in documenting the remote corners and cultures of the globe. Each expert brings his or her own award-winning digital photography skills as well teaching experience from leading hundreds of workshops worldwide.
More information can be found at http://www.lightroomworkshops.com. Online registration discounts are available for members of camera clubs, professional photography organizations, and photography students.
About the Lightroom Workshop 2010 Experts
Jerry Courvoisier
As the former Digital Programs Director at the Santa Fe Photographic Workshops for 14 years, Jerry has guided hundreds of amateurs, celebrated pros, and leading corporations into the digital age. He is one of the world's leading experts on digital imaging technologies.
His skills go beyond digital imagery to photography, imaging application instruction, and image asset management. As a technology writer, and self-avowed digital gadget addict, Jerry's writing has appeared in the pages of Professional Photographer, Shutterbug, and Rangefinder Magazines. his current book "Lessons in DSLR Workflow with Lightroom and Photoshop" is available through Peachpit Press in English and Spanish. http://www.jerrycourvoisier.com
George Jardine
George first joined Adobe Systems in 1993, and in 2003, he began work on the Lightroom project. George's work has appeared in Sports Illustrated, Better Homes and Gardens, Interior Design magazine, and many other national publications. George currently teaches workshops, consults for digital photographers, and is a freelance video producer. Please visit his website: http://www.mulita.com/blog/
Michael Clark
An internationally published outdoor photographer since 1996, specializing in adventure sports, travel, and landscape photography, Michael produces intense images of extreme athletes pushing their sports to the limit. Since 2003, Michael has worked with high-resolution digital cameras.
Michael was featured in Outdoor Photographer (September 2001), Nikon World Magazine (Summer 2006), and New Mexico Magazine (2007) for his work with extreme sports. He contributes to National Geographic, National Geographic Adventure, Sports Illustrated, Outside, Men's Journal, Backpacker, Outdoor Photographer, Digital Photo Pro, Climbing, Alpinist, Rock and Ice, Bike Magazine and The New York Times, among many others. Michaels book "Adobe Photoshop Lightroom: A Professional Photographer's Workflow" is available online through his web site at http://www.michaelclarkphoto.com/workflow.html
Nevada Wier
An award-winning photographer specializing in documenting the remote corners and cultures of the globe, Nevada's journeys have taken her throughout Southeast Asia, India, China, Nepal, Africa, New Zealand, Central Asia, Mongolia, South America, and beyond.
Her work is represented for licensing by Getty and Corbis, and she has been published in numerous national and international publications, including: NG Adventure, Geo, Islands, National Geographic, Outdoor Photographer, Outside, and Smithsonian.
She was a frequent photographer on Canon Photo Safaris (OLN & ESPN) and a regular guest on The Travel Channel. Please visit her website: http://www.nevadawier.com/
###