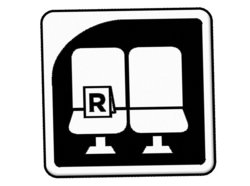 Dallas (PRWEB) April 5, 2010
Greyhound and Peter Pan Bus Lines today announced the expansion of reserved seating to four new major markets along the east coast. Passengers traveling from New York City to Hartford, Philadelphia, Washington, D.C. and Springfield, Mass., now have the additional ticketing option of reserved seating.
"Our company is dedicated to finding ways to improve the overall travel experience for our passengers," said Myron Watkins, vice president of operations, Greyhound Lines, Inc. "In addition to the latest amenities available on our buses, such as extra legroom and free Wi-Fi, reserved seating gives travelers added convenience, just in time for Easter and Passover holiday travel."
Reserved seating is available for an additional fee of $3-$5, one-way, in select cities on specific schedules. Customers can purchase this option in advance up to two hours prior to departure online, and at any time up to one half hour before departure in terminals. Reserved seating originally launched in major Massachusetts metros, Boston, Framingham and Newton.
"Our reserved seating initiative is an extension of our goal to provide the highest level of comfort, safety and service possible to our valued customers," said Peter A. Picknelly, president and CEO, Peter Pan Bus Lines Inc. "We're excited to offer our passengers a variety of travel options, including a standard ticket good for travel anytime, any day, and the chance to upgrade to reserved seating for those who know exactly when they want to travel."
A list of all eligible cities and schedules can be found on http://www.greyhound.com or http://www.peterpanbus.com by clicking on the "reserved seating" icon. Passengers can also call their local terminal or consult a Greyhound or Peter Pan ticket agent at the ticket counter. For fare and schedule information and to buy tickets, contact Greyhound by calling 1-800-231-2222 or visit the Greyhound Web site at http://www.greyhound.com, or contact Peter Pan at 1-800-343-9999 or visit the Peter Pan Web site at http://www.peterpanbus.com.
About Greyhound
Greyhound is the largest North American provider of intercity bus transportation, serving more than 2,300 destinations across the continent. The company also provides Greyhound PackageXpress (GPX) and charter services. For fare and schedule information and to buy tickets call 1-800-231-2222 or visit the Web site at http://www.greyhound.com. Follow Greyhound on Twitter for the latest news and travel deals, http://twitter.com/GreyhoundBus.
About Peter Pan
Peter Pan is one of the country's largest privately owned bus companies, operating premier regular-route service and support to over 100 communities throughout the northeast corridor, with daily express service to cities including Boston, New York, Philadelphia, Baltimore and Washington, DC. The company transports more than three million passengers a year and logs more than 25 million miles annually. The company also operates nationwide charter and tour services.
Contact:
Maureen Richmond
Timothy Stokes
Phone: 513-362-4600
Bruce Westcott
Phone: 413-781-2900
# # #