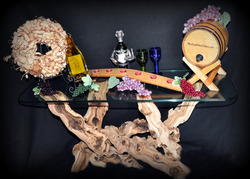 "I can't think of any other industry that creates such beautiful works of art from its used items. Recycled products help bring home all of those wonderful memories of your favorite winery or vineyard."
Lake Jackson, TX (PRWEB) April 4, 2010
The Earth Day celebration officially launches today at SterlingWineOnline.com for the month of April. SterlingWineOnline.com features products made from recycled wine products. These stunning green products make it easy to recycle!
Earth Day gives everyone the chance to take action to do something positive for the environment. Going Green is defined three ways – Reduce – Reuse – Recycle. What better way to help the environment than by closing the loop and purchasing products made from recycled products. Save the planet one bottle at a time.
"Many artists take wine bottles, wine barrels, wine corks or even grapevines to create recycled art with a wine theme," states Jennifer Sterling, co-owner of SterlingWineOnline.com. "I can't think of any other industry that creates such beautiful works of art from its used items. Recycled products help bring home all of those wonderful memories of your favorite winery or vineyard."
Recycled items from outside the wine industry also help create a lovely wine accented ambiance. Lance Sterling, co-owner of SterlingWineOnline.com says, "It's amazing the thought and ingenuity artists use to create useful recycled products. Who would have thought that I could take a snow ski and create an attractive and functional wine rack?"
A full selection of green furniture, jewelry and even pet products are showcased and can be purchased directly on the SterlingWineOnline.com ECO friendly gifts page.
Some items include:
Drink it and then wear it! Recycled Jewelry definitely says GO GREEN! This is Eco Fashion at its finest.
Wine barrel furniture, hand-crafted from wine barrels, and stunning grapevine tables, shaped from one hundred year old grapevines, are excellent examples of recycled furniture and are a great way to accent your home.
Elegant cheese platters, festive drinking glasses and lovely sounding wind chimes produced from recycled wine bottles are just a few of the eco friendly gifts at SterlingWineOnline.com.
Pet products made from recycled wine barrels and wine boxes allow pets to share your love of wine. What better way to spoil your best friend than with a little elegance and style?
SterlingWineOnline.com is a premier online store specializing in unique and custom gifts for the true wine lover. Along with a wide selection of eco friendly gifts, SterlingWineOnline.com features wine themed jewelry, clothing, décor, glassware and accessories. Visit their wine gift blog at http://www.WineGiftBlog.com to access gift ideas for all occasions.
# # #