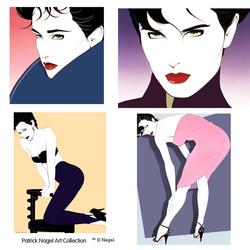 His amazing works are instantly recognized by consumers and art lovers worldwide", said Lyle M. Rose, president of United Brands, LLC.
Beverly Hills, Calif. (PRWEB) April 13, 2010
The Patrick Nagel Collection of Art, and Jennifer Dumas, the exclusive owner and curator of the Patrick Nagel Collection of Art, along with Character Vision and United Brands Worldwide, today announced the establishment of the Patrick Nagel Jewelry, Luxury, and Fashion Accessories brand, inspired from the exclusive images and artwork of iconic artist Patrick Nagel.
"I am blessed to have intimately experienced the talents, love and genius of Patrick Nagel," said Jennifer Dumas, owner and curator of the Patrick Nagel Collection of Art, and widow to Patrick Nagel. "I am especially pleased with this exciting new direction and with the wonderful opportunity to further share Pat's legacy through this creative collaboration with United Brands."
"The American artist Patrick Nagel will be forever embedded into pop culture, and his amazing works are instantly recognized by consumers and art lovers worldwide," said Lyle M. Rose, president of United Brands. "We are honored to work closely with Jennifer Dumas and her agents at Character Vision to reflect the essence and artistic genius of Patrick Nagel. Together, we plan to develop and market consumer products worldwide, utilizing the powerful intellectual property of Nagel's exclusive images and artwork."
Ken Abrams, CEO of Character Vision added, "We are excited to work with the experienced team at United Brands. Together we look forward to expanding the phenomenon that was, and is, Patrick Nagel."
The Patrick Nagel Jewelry, Luxury, and Fashion Accessories collections will launch with limited distribution into fine department stores and specialty retailers in the fall of 2011. For further inquiries please email info(at)UBworldwide(dot)com.
ABOUT PATRICK NAGEL
The Art of Patrick Nagel needs no introduction. His minimalist style defined an era with cool seductive images that became the most iconic of any single generation.
Patrick Nagel was born in Dayton, Ohio and raised in Los Angeles. Nagel was one in a group of talented artists and illustrators working in Los Angeles in the late 1970s and early 80s, redesigning graphic arts, and in the process, redefining Los Angeles as the epicenter of award-winning graphic design.
In 1971, Nagel worked as a graphic designer for ABC Television, producing graphics for promotions and news broadcasts. The following year, he began work as a freelance artist for major corporations and magazines, including Architectural Digest, Harper's Magazine, IBM, ITT Corporation, MGM, Oui, Rolling Stone, United Artists, Playboy and Universal Studios. Nagel's 1982 painting for the album cover of rock group Duran Duran's hit album, Rio, became one of his best known images. He also worked for many commercial clients, including Intel, Lucky Strike and Budweiser.
Nagel's artistic legacy is vast. His work can be found in the permanent collections of the Library of Congress, the Smithsonian Institution, the Musee des Arts Decoratifs, and the Musee de L'Affiche, in Paris, as well as in the hands of many private collectors.
In 1984 at 38 years of age, Patrick Nagel left behind a lifetime of work, an extensive archive for one who died so young. Most of the images have never been reproduced.
ABOUT UNITED BRANDS, LLC
United Brands Worldwide is a U.S. based management firm specializing in creative management and concept marketing. Executives at United Brands Worldwide have produced and developed branded consumer and jewelry projects including Mirabelle 18k, Celine Dion Jewelry, Elton John Jewelry, Techline, House of Taylor Jewelry and others.
For information, please visit United Brands online at http://www.UBworldwide.com. United Brands Creative Management – "Bringing the Pieces Together®."
ABOUT CHARACTER VISION, LLC
Ken Abrams established Character Vision, located in Hermosa Beach, CA in 2009. Abrams has been the executive behind some of the biggest entertainment licensing programs, including Star Trek, Spider-Man, X-Men and Microsoft's Xbox. Character Vision started with the intent to utilize Abram's relationships with the entertainment community, manufacturers and retailers. Current clients include automotive brands BIGFOOT MONSTER TRUCKS and SCORE's BAJA 1000 and NAIMSMITH BASKETBALL HALL OF FAME, based in Springfield Mass.
# # #