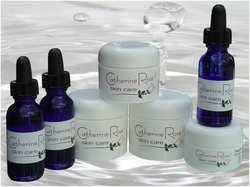 I wanted to create a hydrating skin care line that would really help dry skin and I found using the ingredients while they were fresh was part of the secret.
Inverness, FL (PRWEB) April 20, 2010 –
Many women are plagued at one time or another by facial dry skin that never seems to get quenched. Catherine Rose Suda, founder of the Catherine Rose Skin Care line, has just created several skincare products that guarantee to hydrate your skin making dry skin a thing of the past.
"I created this skin care line for my own personal use because I became frustrated after trying so many different brands on the market, even extremely expensive ones and still never seeing my skin improve," states Catherine. As she formulated her dry skin products Catherine began to see her skin and her family and friends, who were testing the products, change dramatically. The skin became deeply hydrated, dryness was eliminated and the skin obtained a healthy, youthful glow. It became clear to Catherine that she needed to make her skin care products available to others and help them relieve their facial dry skin too. And so, the Catherine Rose Skin Care line was finally launched.
What makes her products so unique is that Catherine Rose makes all her dry skin products by hand and ships them to her customers while the ingredients are at their freshest state. After several years of testing and improving the formulations, Catherine came upon a major discovery that if the moisturizers where applied to the skin right after they were processed it made a tremendous difference: hydration increased, dryness was eliminated and the skin retained a healthy looking appearance.
"I realized I needed to bring the freshest skincare products to my customers so I decided to sell direct so the products were not warehoused and sitting on shelves for long periods of time where they could lose their effectiveness," explains Catherine.
Catherine Rose also learned that all skin care products are susceptible to aging, even the all natural ones, so it became important to sell a freshly made product to ensure a safe and a extremely effective skin care product. At Catherine Rose Skin Care you will find every dry skin cream is "date-stamped" right after processing to guarantee freshness and backed by a 100% Satisfaction Guarantee. Customers can even use up the whole jar and still get a full refund if they are not satisfied with the results.
About Catherine Rose Skin Care:
Catherine Rose Skin Care has offices in CT and FL and is sold throughout the United States. The skincare line is all paraben and formaldehyde free and are filled with beneficial vitamins, alpha hydroxy acids and skin friendly oils. There are several products available: an Alpha Hydroxy Solution, Vitamin C Serum, Hyaluronic water-based Moisturizer, Hydration Salvation Day Cream, Replenishing Night Cream, and a Face Finisher/Primer. To learn more visit http://www.catherineroseskincare.com or contact: Janice Pare, Sales Manager, 1-800-314-2945 or visit http://www.catherineroseskincare.com .
###