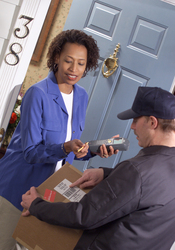 Plainview, NY (Vocus) April 6, 2010
Fastrack Healthcare Systems, Inc. announced new enhancements to the Fastrack Automated Wireless Warehouse, Routing & Delivery Modules which will be demonstrated at Medtrade Spring, May 13-14th in Las Vegas. New functionality will include GPS technology utilizing an integrated cellular PDA routing of deliveries across an unlimited number of vehicles, the sending of patient information, orders, maps & driving instructions to the PDA, expanded facility delivery features that allows for the capturing of inventory counts at a facility with the ability to create new orders on the fly, manage equipment maintenance in the field as well as capture clinical assessments, all in one device. This later feature being ideal for respiratory therapists and nurses.
According to Spencer Kay, President of Fastrack, "These new enhancement will provide significant benefits to our clients in terms of improving productivity, enhancing patient satisfaction and reducing operating costs. The use of these technologies will absolutely lower the cost of operating the delivery vehicle in terms of gas used and wear and tear. It will also significantly reduce or eliminate overtime pay. In addition, patients or facilities will receive deliveries within more accurate time windows increasing their satisfaction with their provider."
Fastrack is the leading supplier of software & technology to Home Medical Equipment, Durable Medical Equipment, Respiratory Providers, Home Infusion Pharmacies & Home Health Care Agencies. Only Fastrack offers a solution for each individual segment of Home Care as well as one system encompassing virtually every clinical, operational and financial aspect of a provider's business, offering several or all of these product/service lines within one integrated Microsoft SQL database. For further information contact FASTRACK Healthcare Systems, Inc. 255 Executive Drive, Plainview, N.Y. 11803; 1-800-520-2325, fax: 516-349-8875, or e-mail them at: info(at)fastrk(dot)com or visit their Website: http://www.onlyfastrack.com.
###