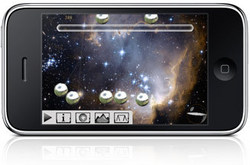 The in-game physics and sounds match the real thing to a tee.
Tacoma, WA (PRWEB) April 6, 2010
Logic Consulting LLC, developer of Apps for iPhone® and iPod touch®, announced the release of Newton's Balls: Kinetic Physics Newton's Cradle Simulator version 1.1. The classic executive desk toy around since the late 1960s has now been realistically ported to the iPhone, iPod touch, and looks great on the iPad™ too. It has been lauded by users stating that it provides a relaxing experience and has even helped teach their children physics principles.
"Newton's Cradles have been simulated before, but never with physics so realistic and pleasing. We are happy to bring the fun experience of the actual toy to the device," said Logic Consulting LLC President John Bethancourt. Taking full advantage of the accelerometer and touch controls, the simulator allows users to manipulate the toy as if it were actually sitting in front of them. Unlike the real version, Newton's Balls has three selectable ball types with differing physics and sound. Currently wood, glass, and steel balls offer the user a varied experience.
Shortly after its initial release, Newton's Balls gained the endorsement of the real world Newton's Cradle toy designer, Simon Preeble. It is currently the top user rated Newton's Cradle simulator on the App Store and has been played by thousands of people in over 48 countries. In line with user reviews, app review blogs and websites have shown similar opinions of the app.
According to a review by SlapApp.com, "The in-game physics and sounds match the real thing to a tee." iPhoneAppReviews.net was also pleased with the performance stating, "I wasn't expecting to be as easily entertained as I was playing around with this thing. It makes for a nice, fun diversion"..."this is clearly a quality app".
As the most realistic Newton's Cradle simulator on the app store, Newton's Balls sets itself apart through advanced physics rendering and unrestricted play. The strings are flexible allowing for full range of motion of all the balls. Hundreds of hours of user testing went into ensuring the ball physics reacted properly.
Newton's Balls version 1.1 introduced some new features in addition to the existing realistic physics and sounds:

True multi-touch allows the manipulation of five balls at once on the iPhone and iPod touch and all seven balls simultaneously on the iPad.
Relaxing motion backgrounds that simulate a perfectly blue cloudy sky, the cosmos, or an office desk.
Three different ball types; chrome, wood, and now glass, all with unique physical characteristics.
Matching interchangeable ball supporting frames.
A collision counter which shows users exactly how many collisions they have caused, an impossibility with the actual desk toy.
Twitter and FaceBook integration that allows users to post their collision counts for their friends to see.
The Newton's Balls App is available for US $1.99 on the App Store: Newton's Balls Full Version
The Lite version is available for free on the App Store: Newton's Balls Lite
For more information about Newton's Balls or Logic Consulting LLC, please visit http://www.logicapplications.net.
Device Requirements:

Compatible with iPhone, iPod touch, and iPad
Requires iPhone OS 3.0 or later
1.9 MB
Copyright © 2010 Logic Consulting LLC. All Rights Reserved. Apple, the Apple logo, iPod, iPod touch, and iPad, are trademarks of Apple Inc., registered in the U.S. and other countries. iPhone is a trademark of Apple Inc. App Store is a service mark of Apple Inc.
###