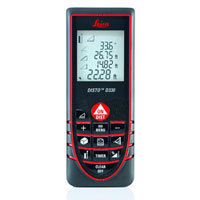 The new Disto D330 by Leica measures to an accuracy of +/- 1.0 mm. With the new Smart Horizontal Mode, Inclination measurement, and Power Range technology, it's the perfect distance meter for any Appraiser, Floorer, Plumber or Construction Job.
Wyoming, MI (PRWEB) April 6, 2010
The new Leica Disto D330 is now available for purchase at AppraisersLaser.com. This new model replaces the D3 with many upgrades and new features for only $329.
With a measuring accuracy of ± 1.0 mm, the Leica DISTO D330 offers high precision at the touch of a button. The large, illuminated display shows the measurement results and supplementary information clearly and legibly. With added improvements over the original D3, the new D3 features: Smart Horizontal Mode, Inclination measurement, Illuminated 4-line display, Multifunctional end-piece, Robust with IP 54, and Power Range Technology.
Smart Horizontal Mode
Thanks to the combination of distance and tilt measurements you can determine the horizontal
distance absolutely precisely. At a touch of a buttom the indirect height can be also displayed.
Multiple functions
The Leica DISTO D330 can also calculate rectangular and triangular areas, volumes, room dimensions and various types of Pythagoras functions. A time delay release and enough memory for up to 20 measurements round off the instrument's wide range of functions.
Clearly arranged display
The results are displayed on the large (2"), clearly arranged and high contrast display. At the touch of a button, the display makes supplementary information available about the measurements.
Target Groups for the New Disto D330 are: Architect, Appraiser, Real Estate Agent, Window Installer, Tiler, Floorer, Plasterer, Dry Construction, Painter, Electricians, HVAC, Plumber,
Joiner
Scope of delivery
-Leica DISTO D330
-Holster
-Quickstart Guide
-Wrist strap
-Battery pack
-Target plate
Upgrades that the D330 offer over the Disto D3 are: Brighter, clearer screen - Smart Horizontal Mode - Stake out function - Triangle Functions
You may order the Disto D330 at http://www.appraiserslaser.com/product/leica+geosystems+-+disto+d330.html, from there you may also view the FAQ, manual, and brochure for this new state-of-the art meter.
AppraisersLaser.com, a Global Web Supply, LLC website, has been selling Disto meters and laser measurement devices for 3+ years, and has a staff experience with these devices for over 10 years.
# # #