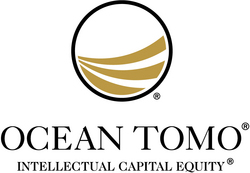 American Express' ability not only to innovate but also to commercialize new technologies represented in their strong patent portfolio is clearly evident in the company's Innovation Ratio
Chicago, IL (Vocus) April 6, 2010
Ocean Tomo, LLC, the Chicago-based provider of diversified intellectual property-related services, today identified American Express (NYSE: AXP) as the Financials sector leader in the Ocean Tomo 300 Patent Index (NYSE Euronext: OTPAT).
The OT300 is the industry's first index based on the value of intellectual property, and represents a diversified portfolio of 300 companies that own the most valuable patents relative to their book value. The related Claymore/Ocean Tomo-licensed ETF product (NYSE Arca: OTP) recently received Morningstar's coveted five-star rating. Morningstar rates ETFs based on risk-adjusted returns for three-year, five-year and ten-year periods. Each year they provide this ranking to only 12 ETFs out of a current universe of over 650 ETF products. The OT300 is one of only two Large Blend ETFs to receive this rating at year end.
American Express, a leading global services company, achieved the greatest Innovation Ratio among all financials constituents of the OT300. Innovation Ratio is a 100% rules-based methodology used to identify those securities with the greatest patent portfolio value relative to the book value of the company.
"American Express' ability not only to innovate but also to commercialize new technologies represented in their strong patent portfolio is clearly evident in the company's Innovation Ratio," said James Malackowski, President and CEO of Ocean Tomo. "Using our proprietary PatentRatings system, we were able to analyze the value of American Express' patents. This assessment resulted in the company's identification as the Financials sector leading constituent contributing to the OT300."
Ocean Tomo PatentRatings data facilitated the identification of American Express as the Financials sector leader by assessing the company's patent portfolio. American Express' portfolio of 174 patents, as of the date when the index was constructed, currently has an average IPQ® score of 107.4. The company's highest-rated patent, U.S. Patent No. 7,239,226, received an IPQ score of 171.9. With their top 64 patents achieving IPQ scores over 120, American Express' patent portfolio is representative of the company's ability to develop and commercialize technology.
The IPQ score is a quantified measure of Patent Quality – a proxy for value. It rates patent assets based on a proven statistical methodology with the median score being 100. Patent assets with higher IPQ scores are more likely to generate economic returns. These scores are based on predictive variables determined to have statistically significant correlation to patent quality and value, including more than 50 internal and external factors.
"We are proud to be recognized by Ocean Tomo as a leading innovator and owner of patents in the Financials sector," said Gilbert Ahye, Senior Vice President, Corporate Development at American Express. "Our aim is to create value by patenting innovations in areas such as information management and next-generation payments."
About Ocean Tomo, LLC
Established in 2003, Ocean Tomo, LLC (http://www.OceanTomo.com) is the leading Intellectual Capital Merchant Banc® firm. The company provides financial products and services related to Intellectual Property financial expert testimony, valuations, research, ratings, investments, risk management and transactions.
Headquartered in Chicago, Ocean Tomo has offices in Greenwich, Orange County Palm Beach and San Francisco. Subsidiaries of Ocean Tomo include: Ocean Tomo Risk Management, LLC; OTI Data Networks, LLC; Patent Marking LLC; Ocean Tomo Asset Management, LLC; and Ocean Tomo Capital, LLC – publisher of the Ocean Tomo 300® Patent Index (NYSE Euronext: OTPAT), the Ocean Tomo 300® Patent Growth Index (NYSE Euronext: OTPATG) and the Ocean Tomo 300® Patent Value Index. Ocean Tomo is the founder and majority owner of the Intellectual Property Exchange International (http://www.IPXI.com) as well as the exclusive licensee and distributor of PatentRatings® 2.0 software solutions (http://www.PatentRatings.com).
About American Express
American Express is a global services company providing customers with access to products, insights and experiences that enrich lives and build business success. Learn more at http://www.AmericanExpress.com and connect with us on http://www.facebook.com/americanexpress, http://www.twitter.com/americanexpress and http://www.youtube.com/americanexpress.
# # #