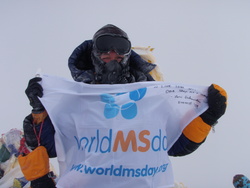 No matter what you think your limitations are, ordinary people can accomplish extraordinary things. Lori Schneider
Bayfield, WI (PRWEB) April 7, 2010
Hopeful climbers have begun streaming in to Nepal on their way to Everest Base Camp for this year's attempt to climb the world's highest peak. Last year's successful climbers whose summit of Everest also completed their Seven Summits quest have just recently been recorded in the register at 7 Summits.com.
Among them is Lori Schneider of Bayfield, Wisconsin, who stood on Everest's summit on May 23, 2009 in blizzard conditions, bearing the flag of World MS Day. Having successfully climbed the highest peak on each of six other continents, her summit of Everest put her in the rare company of those who have conquered the Seven Summits, climbing the highest peak on each of the seven continents. In addition to being the only person with MS to complete the Seven Summits, she is one of only 37 women in the world and only five women over 50 to accomplish this.
Schneider embarked on her Seven Summits quest to conquer her fear of her MS diagnosis. She now shares her story to increase awareness of MS, and to inspire people with MS and others to move beyond their perceived limitations. Since summiting Everest, she has been a featured speaker at events of the National MS Society, and will speak in several European countries to commemorate World MS Day on May 26.
MS is a condition that attacks nerve cells in the brain and spinal cord and can produce neurological symptoms and physical and cognitive disabilities. For Schneider, it was diagnosed when the left side of her body became numb overnight, after years of experiencing symptoms intermittently. Those symptoms and vision problems come and go, and she's grateful that they have abated in recent years. "At first I saw my MS diagnosis as devastating," says Schneider. "Now I see that it has been a positive catalyst in my life and moved me closer to living my dreams. My mission is to give hope to others who are living with this condition."
Schneider was also an unusual climber on Everest because of her "ordinariness." A 52-year-old retired grade school teacher with no corporate sponsors, a limited budget, no high altitude training trips or professional trainers, she was not a typical climber. "Not very many climbers make it their first time, and I knew I'd only have one shot," she recalls. "I took a leap of faith and prepared as best I could with what I had." Schneider trained for Everest by repeatedly climbing up and down ski runs at Mt. Ashwabay, a ski hill a few miles from her home, carrying a pack with 50 pounds of dog food on her back. Ashwabay, at 1,283 feet, is dwarfed by the 29,034 foot Everest, but "a step is a step, no matter where you take it," according to Schneider. Some days she flung herself down the slopes to practice stopping her slide with her ice axe, a skill that can be life-saving on Everest. Carrying the pack, she worked out on the treadmill and climbing machine at Bayfield Recreation Center. She set ladders into trees and across hay bales in her yard to practice crossing the dangerous crevasses in the Khumbu Ice Fall on Everest. Breathing exercises helped prepare her for Everest's high altitudes.
Knowing that climbing Everest requires more than physical strength, she taught herself to halt negative thinking, turn the fearful steps across crevasses into a positive mantra, and to gain strength from the support of friends and family.
"No matter what you think your limitations are, ordinary people can accomplish extraordinary things," says Schneider.
In addition to MS events, since summiting Everest Schneider has also spoken at schools, colleges, corporate events and civic organizations. She offers anecdotes and inspiration at her Facebook page Lori Schneider (Empowerment Through Adventure) and on the website for her company,Empowerment through Adventure. She also offers two books, and a "Lori's Leap of Faith" pendant.
Schneider is currently organizing a climbing expedition to Kilimanjaro for people with MS.
For more information or to book a speaking engagement, contact Lori@ETAdventure.com. Photos, interviews,video and additional resources are available.
###