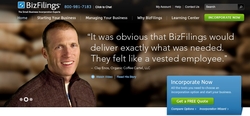 If a second stimulus package is approved for job creation, there could be significant tax advantages available to businesses that incorporate.
Madison, Wisc. (PRWEB) April 6, 2010
With the U.S. government considering a second stimulus package focusing on job creation, small businesses could soon benefit from this legislation. BizFilings, a full-service online incorporation service provider and resource for small businesses, is predicting that many small and home-based businesses will consider expanding into new incorporation models to take advantage of the second stimulus package, should it come to pass.
"If a second stimulus package is approved for job creation, there could be significant tax advantages available to businesses that incorporate," says Karen Kobelski, general manager of BizFilings. "Corporations with employees often gain significant advantages, such as the deductibility of health insurance premiums paid on behalf of an owner-employee, savings on self-employment taxes and the deductibility of other expenses, such as life insurance. Incorporating can also take some of the risk out of starting a new venture and can help build trust for those forming small businesses in uncharted territory. Consult with your accountant to determine which business structure offers the most tax advantages for your business."
Small Business Boom Predicted in Select Industries

Green Power: The green power/clean-tech boom shows no signs of letting up as eco-friendly tax breaks continue to make "going green" appealing for consumers and businesses alike.
Parental Outsourcing: As the nation of Baby Boomers continues to mature, more and more parents struggle to find an appropriate work/life balance. With greater frequency, parents are now turning to parental outsourcing services to help them meet both work and personal obligations, from daycare to elder care and all points in between.
Aging Services: As time marches on, so does the nation's need for aging services to support this growing population. No longer solely the domain of retirement homes, aging services include everything from special fitness programs and senior-focused collegiate programs to seniors-only dating sites and social media networks.
Visit the BizFilings.com Learning Center for more information about the information about the benefits of forming a corporation.
About BizFilings
BizFilings is a full-service online incorporation service provider, offering small business owners a fast, easy and economical way to form a corporation, limited liability company (LLC) or other business structure online or by phone. BizFilings also offers a full range of business filing and compliance products, including nationwide Registered Agent service, helping keep businesses in compliance with state regulations. BizFilings can be found online at http://www.BizFilings.com. BizFilings is a part of Wolters Kluwer http://www.wolterskluwer.com, a leading global information services company. Wolters Kluwer had 2009 annual revenues of €3.4 billion ($4.8 billion/£3.0 billion), employs approximately 19,300 people worldwide and maintains operations in over 40 countries across Europe, North America, Asia Pacific and Latin America.
###