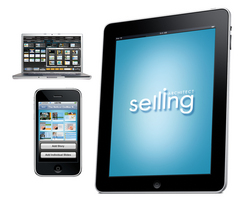 I believe this validates the uniqueness of what Selling Architect has to offer: a cost-effective sales and marketing ecosystem to accelerate sales and control the brand message
San Francisco, Calif. (PRWEB) April 6, 2010
Selling Architect, a leading provider of integrated sales empowerment platforms, today announced that it was selected as a Gartner 2010 Cool Vendor. The designation recognizes technology vendors who provide enabling technologies to drive sustainable revenue growth.
"To be one of the five vendors chosen for recognition is quite an honor," said Dennis McKnew, CEO of Selling Architect. "I believe it validates the uniqueness of what Selling Architect has to offer: a cost-effective sales and marketing ecosystem to accelerate sales and control the brand message," McKnew continued.
"By providing the user with up-to-date, accurate and topical information, Selling Architect helps maximize sales impact in each presentation," stated the Gartner Report. "By using a flexible GUI that provides easy access to all the assets and categories of information available, a sales rep can quickly and easily create a 'pick and mix' of slides, videos and information. The rep can present in-person or leverage the power of remote selling with the offering's online presentation," the report continued.
"I'm extremely proud of this latest recognition because it gives evidence to the momentum we're seeing with the platform – both from a development and market share perspective – and clearly supports the need all sales organizations have to fundamentally empower their reps to do a better and faster job selling," said McKnew.
About Selling Architect
Selling Architect is a deep SaaS (Software as a Service) resource that champions companies of all sizes by showing them how to empower their sales forces in unique and differentiating ways. The Selling Architect™ application is a powerful, cloud-based content management platform and presentation tool that dramatically accelerates the selling process by enabling a sales rep to create a customized, personalized multimedia presentation literally in seconds, and then present, share or publish the presentation online. Visit the company's Web site at http://www.sellingarchitect.com.
About Gartner
Gartner, Inc. (NYSE: IT) is the world's leading information technology research and advisory company. Gartner delivers the technology-related insight necessary for its clients to make the right decisions, every day. From CIOs and senior IT leaders in corporations and government agencies, to business leaders in high-tech and telecom enterprises and professional services firms, to technology investors, Gartner is the indispensable partner to 60,000 clients in 10,000 distinct organizations. Through the resources of Gartner Research, Gartner Consulting and Gartner Events, Gartner works with every client to research, analyze and interpret the business of IT within the context of their individual role. Founded in 1979, Gartner is headquartered in Stamford, Connecticut, U.S.A., and has 4,000 associates, including 1,200 research analysts and consultants in 80 countries. For more information, visit http://www.gartner.com .
Copyright (c) 2010 Selling Architect. All rights reserved. Selling Architect and the Selling Architect logo are trademarks of Big Minnow, inc., and Selling Architect.com owns other registered and unregistered trademarks. Other names used herein may be trademarks of their respective owners.
###