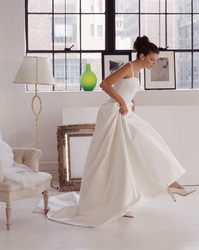 "Today's bride is expecting an original approach to her wedding pictures, and she's seeking a higher level of photography that emanates her distinct personality and that captures the surrounding environment and celebration." Michel Arnaud
New York, NY (PRWEB) April 6, 2010
Today Arnaud Associates (http://www.michelarnaud.com) announced that it's launching a new venture called Head Over Heels Studio (http://www.headoverheelsstudio.com), which will focus on high-style wedding photography. Conceptualizing the company and leading the initiative is fashion, portrait and interiors photographer, Michel Arnaud.
Prior to founding Head Over Heels Studio, Arnaud and his business partner, Pawel Kaminski, would only accept a small number of select weddings to photograph.
"Generally speaking when you flip through a magazine or the wedding section of a newspaper, you see that wedding photography has become somewhat expected and mundane," Arnaud said. "With Head Over Heels Studio, we intend to change that. Today's bride is expecting an original approach to her wedding pictures, and she's seeking a higher level of photography that emanates her distinct personality and that captures the surrounding environment and celebration."
As the recession continues, wedding trends are changing. About.com's Nina Calloway notes that three of the top 2010 wedding trends are:
1. Backyard Weddings at Home
2. Birdcage Wedding Veils
3. Mismatched Bridesmaids' Dresses
"When we started looking at wedding trends, we felt that they were leaning more to our type of photography, which combines beauty, interiors and emotion," Kaminski explained. "Now is the right time to enter this market and bring to the discerning bride the opportunity to own a collection of fine-art photographs that not only will she treasure, but that her children and even her grandchildren will too."
About Arnaud Associates
Arnaud Associates (http://www.michelarnaud.com) was founded 25 years ago by Michel Arnaud and still operates today, focusing on fashion, portrait, and interiors photography. It's an international business, with experience orchestrating photo shoots around the world. Arnaud Associates' new venture is Head Over Heels Studio, which focuses solely on the creation of fine-art wedding photography. Michel Arnaud is a graduate of the Centre de Formation des Journalistes in Paris, France. His work has been featured in numerous high-profile magazines and design books, such as Vogue, Town & Country, and Harper's Bazaar and All American: The Exuberant Style of William Diamond and Anthony Baratta. He has photographed fashion and lifestyle icons like Carolina Herrera, Oprah Winfrey, and Diane Von Furstenberg.
Pawel Kaminski's work can be seen in an upcoming book titled: Picture Perfect by interior designer Scott Sanders. In addition, Kaminski is the principal website photographer for companies such as Pointed Leaf Press and Constructomics. Kaminski graduated at the top of his class in advertising and architectural photography at the New England School of Photography in Boston.
###