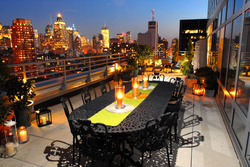 I've used Apple products for more than 30 years - they are integral to my business here in the BIG APPLE.
New York, NY (PRWEB) April 7, 2010
A New York City Real Estate firm is offering free iPads to agents and customers. Steven Kopstein Real Estate announced today that any purchaser who signs a contract to purchase one of the company's exclusive listings will receive a free iPad at closing. Apple is known for its must-have small handheld devices; the new iPad takes Apple into a wholly different realm.
"A Free iPad for Your New Pad" is the company's special promotion announced just 2 days after the groundbreaking product was brought to market.
Steven Kopstein Real Estate is offering a free iPad to the purchaser of any of the company's exclusive sales listings as long as a purchase contract is entered into by May 31, 2010. In addition, an iPad will be given to a randomly selected broker who attends any of the firm's Broker's Open Houses in the next 2 months. A drawing will be held at the Open House.
The company, which uses all Apple technology for it's business, is ready to give away as many apples as possible this spring.
Owner, Steven Kopstein, is a huge fan of Apple products and uses them in all aspects of his business. "I've bought 4 Macs and 2 iPhones over the past year - there is no doubt these tools have helped me help my customers," said Mr. Kopstein. "New York is a tough city for real estate, you have to be innovative and quick - apple helps me achieve both of these goals and provide a better overall customer experience. I'm excited to be able to spread the iPad around so people can experience the high quality - and hopefully associate that with my firm."
###