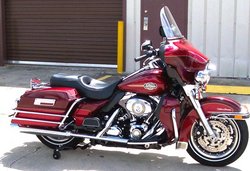 Longwood, FL (Vocus) April 6, 2010
Chopper Design of Longwood, Florida is pleased to announce that they are now selling their 'LegUp LandinGear' motorcycle stabilization system. This unique, patent-pending, computer controlled device, deploys and retracts a set of wheels to help motorcyclists maintain balance as they stop, start and maneuver at low speeds. This trike alternative is aimed at riders with difficulties handling heavy bikes and allows these people to ride on two wheels rather than three.
As the motorcycling public ages, many riders start to loose confidence as they come to a stop. Many of these riders choose to quit the sport, or convert their motorcycles into three wheeled 'Trikes'. Labeled 'The Perfect Trike Alternative', the LegUp system allows these people the choice of keeping their bikes, and the ability to ride them as they always have, rather than giving up, or converting their vehicles.
The system uses a computer to sense vehicle speed, and lowers or raises a set of small wheels, that make the motorcycle feel like a much smaller and manageable bike. These wheels even allow the rider to lean the bike while the wheels are lowered, making the riding experience almost identical to a motorcycle without the LegUp system installed.
The device is barely noticeable on the vehicle, and it requires no permanent modifications to the bike. The 'LegUp LandinGear' system to be moved from one bike to another when a rider upgrades his motorcycle.
Initial demand for the system, which is manufactured in the U.S.A., has been overwhelming! The company spent two years developing LegUp and is adding capacity to keep up with this demand. Currently the system is offered for Harley-Davidson touring bikes, Softails, Dynas and Honda GL1800 Goldwings. Other models are planned and are currently under development.
Chopper Design Services has been in the motorcycle business since 1999, specializing in service and custom bike-building. They manufacture the LegUp LandinGear system in their 6,000 square foot facility in Longwood, Florida.
# # #