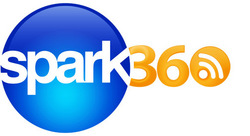 "The EdgeTech story is a great example of a special brand of American entrepreneur. When the spark of a business idea hit Jeff Thompson as a young teen, he invested in his dream with hard work, " said Senior Producer Steven Swaim.
DALLAS (PRWEB) April 6, 2010
A teenager's tinkering with computers at the dawn of the information age results in a successful computer memory business that takes on much larger competitors daily. EDGETech Corp president and CEO Jeff Thompson takes his own trip down (digital) memory lane to tell his story, detail a down-to-earth sales strategy and give his forecast for future digital trends in this week's edition of spark360's "Social Business Television" program.
The spark360 segment takes you behind-the-scenes of a company executive strategy session, features executives sharing their recollections of Thompson's unique entrepreneurial story and includes an on-set interview with spark360 host/managing editor Renay San Miguel, who quizzes Thompson about the challenges and opportunities in the global digital memory arena.
Thompson was a 14-year-old middle-school student in 1986, throwing a newspaper route in Ada, Oklahoma and stealing away time from studies to discover the inner workings of desktop PC's. "Computers at that time were a hobby for me, and the business started for me as a hobby," Thompson says.
A fascination with computer components - particularly memory and storage - prompted him to take $2500 of his paper route money and start the company that would end up known as EDGETech Corp. The company, with offices in Ada and Dallas, has grown to include digital media, external hard drives and other computer memory upgrades targeting enterprise servers and personal consumer products. Edge Tech's industry partners include Apple and IBM, and its products can be found stocking the shelves at major mainstream and tech-based retailers like WalMart, Costco, CDW and Staples.
Even though EDGETech doesn't have the same kind of marketing budget as larger competitors, Thompson credits a personal approach to customer relationships that's allowed the company to grow and prosper. "Our management team realized early on that as a company, it couldn't just be about the dollars, because we don't have the dollars our big competitors do. Our job then, as well as today, is to make us someone that customers want to keep doing business with," Thompson said.
"Everybody loves a underdog story," said San Miguel. "You don't have to look any further than the recent NCAA Men's Basketball Tournament to know that. I loved the story behind EDGE Tech's founding, and the fact that Thompson has already been in business for 24 years, and he still brings a lot of youthful enthusiasm and passion to the office every day. That's exactly the kind of 'spark' we want to bring to spark360."
spark360 Senior Producer Steven Swaim added, "The EDGE Tech story is a great example of a special brand of American entrepreneur. When the spark of a business idea hit Jeff Thompson as a young teen, he invested in his dream with hard work. We look forward to sharing with our audience how that hard work has paid off almost 25 years later."
About EDGE Tech Corp
EDGE Tech Corp, an ISO 9001:2000-certified company founded in 1986, is a leading supplier of computer memory upgrades, portable computing products, storage devices, and other experience-enhancing technology solutions.
At the age of 14, EDGE's president and CEO, Jeff Thompson, began the company with $2,500 he had saved from a newspaper route in Ada, Okla. With a fascination for the technology market, he began buying and selling computer parts in the Dallas Morning News. Today, EDGE is one of the largest and most respected companies in its industry.
Its eCommerce, marketing, and sales offices are located in Dallas, and EDGE operations reside in its 46,000-square-foot headquarters facility in Ada.
About spark360
spark360 is a Web-based business television program that celebrates the spark of entrepreneurship in America by featuring the unique stories of small and middle-market businesses.
spark360 also provides a credible and relevant outlet to get your story to a global marketplace through our exclusive 360 Distribution social media platform. spark360 delivers broadcast-quality, network news-style programs via a comprehensive SEO-optimized "full circle" distribution strategy that reaches every corner of the Internet.spark360 is a division of Splash Media, L.P. http://www.spark360.tv
For media inquiries for spark360, please contact: Steven Swaim sswaim(at)spark360(dot)tv
About Splash Media
Splash Media L.P., based in Addison, Texas, creates and develops custom web-based communications and training solutions that are powered by video. We specialize in developing video communications strategies and video delivery platforms that drive our customer's bottom line. Splash Media is a leader in the Enterprise Video Communications industry and has been delivering Internet enabled strategic video solutions since 2004. http://www.splashmedia.com
For media inquiries for Splash Media, please contact: Chris Kraft ckraft(at)splashmedia(dot)com
###