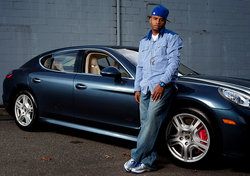 "To know and appreciate my music, you need to know me, understand who I am, and where I come from"
Brooklyn, NY (PRWEB) April 7, 2010
Facethamusic's first single, titled "Don't' Push Me" débuted on Hot 97 March 19, 2010 by DJ "KaySlay", aka "The Drama King," and once referred to by the New York Times as ""Hip Hop's One-Man Ministry of Insults". "Don't Push Me" features Grafh, the well known hip-hop artist has released a new single with Jim Jones in conjunction with Black Hand Entertainment as an independent project thru Koch Records. Moreover, a music video of "Don't Push Me", with Grafh, will also be released, Spring, 2010.
Facethamusic has expressed a great The launch of his first album, titled "Me for Mayor" is expected to come out during the Fall of 2010. "Don't Push Me" and "Tip Her" from this album were released on April 5, 2010 and can be downloaded at http://www.mediafire.com/?jtgzynuivwf and http://www.mediafire.com/?dzycr2wgkqm with a bonus freestyle track titled Haha downloadable at http://www.mediafire.com/?l0dn5m4mmnm. The "Don't Push Me" video will feature scenes with Grafh himself right alongside Facethamusic.
Face has expressed a great sense of confidence in the creation of this album. And it featuring Grafh, only makes it "that much better," as Facethamusic put it. Facethamusic has been so taken back by the swift scale upward into the industry, and only looks to keep working in an effort to jump even higher. Though, this forever "Brooklynnyte" remains as true to self as the city makes most die-hards out to be. He's as humble as ever, and continues to work through the motivation and inspiration of his fans. With his consistent efforts and full heart put into every bit of work he creates, facethamusic intends to also drop a mixtape early this summer hosted by one of the hottest DJ's in the game. Things are looking way up!
Facethamusic is researching different charitable causes to affiliate himself with, hoping to raise money and awareness for social causes that assist struggling families.
You can learn more about Facethamusic, and hear 14 tracks, by going to his website, http://www.facethamusic.com and visiting him on http://www.myspace.com/facethamusic and http://www.twitter.com/facethamusic. When you go to http://www.facethamusic.com, please sign up!
###