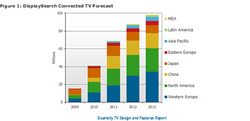 We are just seeing the hype turning into real products
Austin, TX (Vocus) April 7, 2010
A deluge of new product announcements so far this year shows that TV set makers are far from running out of ideas, according to the latest DisplaySearch Quarterly TV Design and Features Report.
"While 3D TVs are all the rage, there has been a surge in the development of other TV enhancements," noted Paul Gray, DisplaySearch Director of TV Electronics Research. "Incorporating USB connectors in TVs is fast becoming as important as HDMI, and is enabling all kinds of new functionality. Skype is moving into the living room with video calling, and a surge of new connected sets are soon to reach the market in China. Also, Walmart's purchase of VUDU could transform TV features if the retailer decides that any set they sell has to be capable of accessing it."
DisplaySearch forecasts that almost 100 million connected TVs will be shipped in 2013, up 546% from nearly 15 million in 2009.
Digital broadcasting is also reaching a new phase, with government policy driving rapid adoption in Brazil and China, while 2010 is the year of terrestrial HD for Europe. Despite this, the internet is revolutionizing video delivery and TV set makers are preparing to ride that wave.
DisplaySearch research also indicates that LED backlighting and 240 Hz LCDs will serve as enabling technologies for new feature developments in TV in 2010, specifically 3D, an area of intense interest to broadcasters, movie studios and set makers. DisplaySearch forecasts that 2.5 million 3D-capable TVs will be shipped in 2010, with growth to 27 million sets in 2013.
"We are just seeing the hype turning into real products," said Paul Gray, "but the key issue will be how consumers react, and the industry will learn a great deal as people take 3D sets home and use them. There are many complications in the supply chain, starting with a shortage of content. The content industry probably has the biggest task ahead."
The DisplaySearch Quarterly TV Design and Features Report is a quarterly update of the issues and fast-moving feature developments in TV sets. The 200+ page report examines and forecasts video processor and signal processing IC market development, including 120/100 and 200/240 Hz frame rates and market shares for major IC vendors. In addition, the report also features forecasting for MPEG-4 decoding and the digital broadcast environment around the world; TV connectivity, such as wired and wireless networked TVs; LED backlighting; 3D capability and implementation; remote controls and chassis design; and power consumption. In Q1'10, the report also includes details of key featuring of new models launched by leading set makers. The Quarterly TV Design and Features Report is the only report to combine all these aspects of a fast-moving market and examine how they interact. It is complete with a database of TV set featuring for over 200 models in low, mid and high positions in major regional markets.
Learn more about the TV market during at the SID DisplaySearch Business Conference on May 24 during SID Display Week in Seattle, Washington, visit http://www.displaysearch.com/events.
About DisplaySearch
Since 1996, DisplaySearch has been recognized as a leading global market research and consulting firm specializing in the $770 billion display supply chain, as well as the emerging photovoltaic/solar cell industries. DisplaySearch provides trend information, forecasts and analyses developed by a global team of experienced analysts with extensive industry knowledge and resources. In collaboration with the NPD Group, its parent company, DisplaySearch uniquely offers a true end-to-end view of the display supply chain from materials and components to shipments of electronic devices with displays to sales of major consumer and commercial channels. For more information on DisplaySearch analysts, reports and industry events, visit us at http://www.displaysearch.com/. Read our blog at http://www.displaysearchblog.com/ and follow us on Twitter at @DisplaySearch.
About The NPD Group, Inc.
The NPD Group is the leading provider of reliable and comprehensive consumer and retail information for a wide range of industries. Today, more than 1,700 manufacturers, retailers, and service companies rely on NPD to help them drive critical business decisions at the global, national, and local market levels. NPD helps our clients to identify new business opportunities and guide product development, marketing, sales, merchandising, and other functions. Information is available for the following industry sectors: automotive, beauty, commercial technology, consumer technology, entertainment, fashion, food and beverage, foodservice, home, office supplies, software, sports, toys, and wireless. For more information, contact us or visit http://www.npd.com/ and http://www.npdgroupblog.com/. Follow us on Twitter at @npdtech and @npdgroup.
Media Contact:
Lisa Christian
Public Relations
Phone: 602.885.0369
E-mail: media(at)displaysearch(dot)com
###