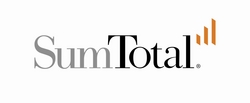 St. Petersburg, FL (PRWEB) April 6, 2010
SumTotal® Systems, Inc., a market leader and global provider of talent development solutions, is a Gold Sponsor and will be showcasing its latest solutions at Bersin and Associates'IMPACT 2010: The Business of Talent®, April 6-8, in St. Petersburg, Florida. Geared toward enterprise learning and talent management executives, IMPACT 2010 provides attendees with the opportunity to discuss the latest industry trends, share best practices and learn about the latest technologies supporting talent development initiatives.
"An organization's greatest asset is their talent, so it's imperative to provide employees with the learning and development needed to effectively achieve business goals and contribute to the success of the organization," said Barbara Stinnett, president of SumTotal Systems. "We believe learning management is the most critical part of any successful talent development strategy and we're passionate about helping organizations of all sizes create a more powerful workforce."
SumTotal customer Liviu Dedes, Vice President, Organizational Development, ARAMARK, is among the speakers at the conference and will be sharing his vision on fully leveraging employee knowledge through a range of social, collaborative, and informal learning activities on Wednesday, April 7th from 3:00 – 4:15. In addition, Matt Wilkinson, Senior Director, Product Strategy, SumTotal Systems, will be on hand to answer questions about talent development best practices and show the latest SumTotal product offerings at Table #8.
SumTotal has long been a leader in talent development with over 20 years of experience in solving critical learning and performance issues around the world. The company's experience with a wide variety of organizations coupled with best practices developed for specific industries help organizations maximize the value of their greatest and most expensive asset – their employees.
SumTotal's leadership in learning management, coupled with solutions for performance, compensation, and succession management, deliver a unified Talent Development Solution that strengthens employee productivity, creates a high-performance culture, and aligns the workforce to business goals.
For more information about SumTotal's learning management solutions, visit: http://www.sumtotalsystems.com/products/learning-management.html
For more information about IMPACT 2010: The Business of Talent®, visit: http://impact.bersin.com/
About SumTotal Systems, Inc.
SumTotal Systems, Inc. is a leading provider of proven talent development solutions that automate and integrate learning, performance, and compensation management to drive business results on a daily basis. Our solutions strengthen and develop employee skills to accelerate time-to-market, close skill gaps, and reduce the risk of business disruptions. With over 20 years of experience in Talent Development, and more than 1,500 customers and 18 million users worldwide, we have increased the performance at some of the world's best-known companies, organizations and government agencies. Our category leadership and applied insight help us understand the critical success factors for businesses of all sizes. For more information, visit http://www.sumtotalsystems.com
SumTotal and the SumTotal logo are registered trademarks or trademarks of SumTotal Systems, Inc. and/or its affiliates in the United States and/or other countries. Other names may be trademarks of their respective owners.
###