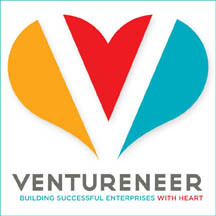 "The good news is: Much of the technology you need to use is inexpensive or even free. The bad news is: You have to learn a whole new way of thinking and of marketing. You have to learn how to work with social media." Geri Stengel, President, Ventureneer
New York, NY (Vocus) April 6, 2010
Social media is everywhere these days – and every business needs a plan for how to make use of it. But when it comes to managing a blog, Facebook page, Twitter account, LinkedIn profile and so on, what works and what doesn't? What's good advice and what isn't? How can social media help businesses flourish?
On April 15, 2010, Ventureneer will offer the webinar Women Business Owners: Make Social Media Work for You in 7 Simple Steps. Taught by Lena L. West, an award-winning social media consultant, blogger, speaker, journalist and technologist, this webinar offers a road map for social media, tailored to the specific needs of women business owners. It's designed to tame the intimidation factor of new technology and help any female leaders feel at ease with these cutting-edge tools.
The webinar will cut to the chase to quickly demonstrate the seven key elements businesswomen need to consider for effective use of these powerful but sometimes frustrating tools, including the following:

Not only creating and writing great blog content – the first step – but promoting it correctly to reach the right audience
Why it's crucial to select the right social medium to have a chance of success
How and when to apply The Reciprocity Rule
The importance of having a clear message and being willing to step into the spotlight
Participants will get step-by-step instruction in developing a social media strategy. It will present concepts in a straightforward, easy-to-understand style.
Says Geri Stengel, Ventureneer founder, "The good news is: Much of the technology you need to use is inexpensive or even free. The bad news is: You have to learn a whole new way of thinking and of marketing. You have to learn how to work with social media."
This webinar will benefit women business owners and other women who need a helping hand when learning technology-oriented subjects. By the end of the session attendees will have an understanding of what social media are available, when and how to use them effectively, what kind of content to create for different media and what tools to use.
For more information and to register, visit Ventureneer.
About Geri Stengel
Geri is the founder of Ventureneer, an online education and peer support service. An adjunct professor at The New School, she honed her online experience at companies like Dow Jones and Physicians' Online. Geri co-founded the Women's Leadership Exchange and is the president of Stengel Solutions, a consulting service for social-impact organizations.
About Ventureneer
Ventureneer.com provides nonprofit and small business advice as well as entrepreneurial and nonprofit training through a new approach to learning: a blend of traditional, formal instruction with informal, peer learning that takes advantage of Web 2.0 technology to capture and share knowledge. Ventureneer's customized blogs, virtual classes, peer-to-peer learning, coaching, web events, and articles help entrepreneurs make faster, better decisions for their enterprises.
Geri Stengel
212-362-3088
geri(at)ventureneer(dot)com
###