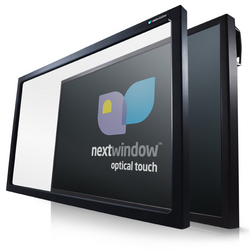 There are many exciting commercial projects in the Middle East that can benefit from large-format interactive displays like those manufactured by NextWindow and its partners
Pleasanton, CA (Vocus) April 7, 2010
NextWindow, the leading provider of optical touch screens to manufacturers of desktop PCs, monitors and large-format displays, today announced that it will be an exhibitor at the PALME Middle East 2010 trade show. The event is scheduled for April 18 – 20 at the Dubai World Trade Centre in Dubai. NextWindow will demonstrate the latest large-format touch screen applications for commercial, corporate and educational use in booth SF30.
PALME Middle East is the region's premier event for the audio, lighting, music and entertainment industries. Thousands of buyers from the area's largest companies and academic institutions will attend PALME Middle East to find state-of-the-art technology products for new shopping malls, hotels, boardrooms and classrooms. Large-format touch screens are increasingly popular in these venues throughout the Middle East. As an example, many schools are using interactive displays for educational purposes, and corporations are deploying them as a training tools. According to PALME organizers, the Middle East market for audio-visual technologies including digital signage and related display based applications is likely to grow from more than $2 billion in 2009 to over $3 billion by 2012.
"There are many exciting commercial projects in the Middle East that can benefit from large-format interactive displays like those manufactured by NextWindow and its partners," said Anthony Uhrick, vice president of large-format displays at NextWindow. "Companies and academic institutions in Dubai and neighboring countries such as India are highly motivated to find the best technology products. By exhibiting at PALME Middle East we can forge tighter bonds with project developers and grow our presence in this rapidly developing region."
About NextWindow
NextWindow is a leader in touch-screen technology and a major manufacturer of optical multi-touch screens for OEMs, ODMs and resellers. With highly accurate, cost-effective solutions designed for personal and business use, NextWindow provides the hardware necessary to bring touch-screen technology to life—giving software designers the freedom to create exciting and intuitive applications. Founded in 2000, NextWindow is privately held with offices in New Zealand, Taiwan, USA, Singapore and Korea, with manufacturing facilities throughout Asia. More information about NextWindow is available at http://www.nextwindow.com.
Company contact:
David Villarina, NextWindow
+1 (925) 272-4530
###