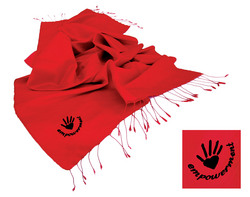 This is a milestone event for the survivors of modern day slavery.
New York, NY (PRWEB) April 6, 2010
On April 6th at The Box in New York, world-renowned sexual slavery survivor Somaly Mam will join celebrities for the launch of the Somaly Mam Foundation's line of survivor-made empowerment products. Proceeds from sales will support rescue, survivor recovery, and advocacy efforts in Southeast Asia and around the world.
Joining Somaly Mam as co-hosts will be Amanda Brooks, Ahn Duong, Katie Ford, Kiara Kabukuru, Josh Lucas, and Alexis Tobin. Expected guest include Kelly Brant, Lorraine Bracco, Sharon Bush, Linda Fargo, Frederic Fekkai and Shirin von Wulffen, Ally Hilfiger, Jaimie Hilfiger, Sasha and Chris Heinz, Georgia Jagger, Lizzie Jagger, Genevieve Jones, Dylan Lauren, Phillip Lim, Emily Pataki and many more.
Lauren Bush will be honored with the 2010 Voice of Change Award for her humanitarian efforts. Read more about her work at feedprojects.com/team_feed and lauren-pierce.com/about.asp.
The product launch will feature the Somaly Mam empowerment scarves and pendants. Both carry the heart and hand symbol designed by Somaly Mam. This iconic design serves as a reminder that the world will only be changed when we bring together hearts and hands, merging compassion with action.
"This is a milestone event for the survivors of modern day slavery. It embodies Somaly Mam's personal strength and commitment to eradicating human trafficking and helping its victims rebuild their lives. Survivors are taking their futures into their own hands by raising their voices and creating products that share their message of empowerment and freedom with the world," says Bill Livermore, Executive Director of the Somaly Mam Foundation.
Guests will be treated to an eclectic variety show by The Box performers as well as a special dance performance using the new Somaly Mam scarves, choreographed by Jermaine Browne, who has worked with artists like Christina Aguilera, Jennifer Lopez and Justin Timberlake. The Body Shop will sponsor the evening and eco-friendly cocktails will be provided courtesy of Veev.
About The Somaly Mam Foundation:
Somaly Mam, a survivor of human trafficking, went on to found the largest shelters in Southeast Asia and has rescued more than 6,000 young women and girls over the past ten years. Somaly has garnered worldwide respect for her work and is now a renowned leader, advocate, and protector of human trafficking victims. Universally recognized as a visionary for her courage, dignity, ingenuity, and resilience, Somaly was honored as one of Time Magazine's 100 Most Influential People of 2009 and was featured as a CNN Hero. She is also the recipient of the first Roland Berger Human Dignity Award, the Prince of Asturias Award for International Cooperation, The World's Children's Prize for the Rights of the Child (WCPRC), Glamour Magazine's 2006 Woman of the Year Award, and has won accolades from the US Department of Homeland Security.
Founded in 2007 the Somaly Mam Foundation is dedicated to ending slavery around the world with a results-oriented, three-step approach: Survivor Services, Advocacy, and Awareness. The common thread woven through all of its programs is the collective voice of the survivors. The foundation models its vision after Somaly's inspiring life, ensuring that survivors take charge in reclaiming their lives while refusing to turn their backs on those who remain behind.
Human trafficking, a multi-billion dollar industry, is one of the fastest growing criminal enterprises in the world. With over two million women and children sold into sexual slavery each year, it is a global crisis that must be stopped.
Press Contact:
Chris Wright
cwright (at) somaly (dot) org
202.253.2900
http://somaly.org
###