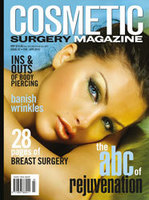 This web portal is a natural extension of Australian Cosmetic Surgery magazine which has been on the shelves since 1998.
(PRWEB) April 7, 2010
Visitors to the new http://www.cosmeticbeautydirectory.com.au site can keep up-to-date with the latest product reviews, industry news, events and everything anyone could ever want to know about cosmetic enhancement. As well as information on the latest and greatest products, those considering cosmetic surgery can read in-depth coverage of procedures such as liposuction, facial rejuvenation and breast augmentation, with expert tips and advice. At the click of a mouse, visitors can find their local practitioner or service, their closest fitness club or gym, or investigate a luxury spa destination.
Michelle Kearney, Managing Director of Bella Media and the Editor for Australian Cosmetic Surgery Magazine and Bella Beauty Magazine, says: "Bella Media has launched this web portal in direct response to the growing effectiveness of Social Media and electronic marketing, and is a natural extension of Australian Cosmetic Surgery magazine which has been on the shelves since 1998. Our holistic approach covers everything from cosmetic enhancement and wellbeing to the ever increasing beauty and spa industries."
http://www.cosmeticbeautydirectory.com.au also offers a platform for cosmetic surgeons to share their expertise with both their colleagues and clients. This new medical marketing tool provides doctors with the opportunity to reach their target audience on a global scale.
In February 2008, Barack Obama did not attend any campaign fundraisers but, instead, targeted online social networks and raised $55 million in those 29 days. In 2009, Twitter played an unprecedented role in distributing information during the Iranian presidential elections.
"When you consider such successful outcomes, it is clear that marketing media are changing and it is vital to stay at the forefront of these changes," says Kearney. "Every doctor should have an integrated social media marketing program. The increasing number of hits and unique visitors to http://www.cosmeticbeautydirectory.com.au demonstrates this is what people want."
Complete with reviews, special offers and giveaways, http://www.cosmeticbeautydirectory.com.au is the one stop shop for visitors interested in health, beauty, cosmetic surgery and self-improvement.
Bella Media publishes various titles in the health, beauty and medical industry. The Definitive Guide Series is designed to provide prospective patients with an overview of various cosmetic procedures. The informative resource covers a range of aspects of cosmetic surgery including techniques, benefits and risks, and evaluates important issues concerning patient safety and psychological factors. It also features case studies, before and after pictures as well as tips on how to prepare, minimise side effects and prevent the need for further surgery.
###