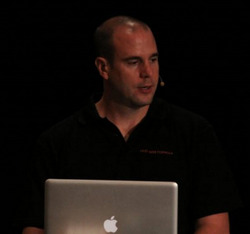 The overseas speakers were amazed firstly at the amount of quality information that James shares with his students, but at the calibre of those returning 'refresher' students who are already profiting from Schramko's mentorship.
(PRWEB) April 7, 2010
Held in Sydney, Australia in March 2010, FastWebFormula saw people from novices to those looking for advanced training, all emerge from the three-day intensive course with the skills needed to run a highly profitable online businesses.
Guest Speakers
Building from his previous one-man training event format, for FastWebFormula, James enlisted the a few extra real world experts:

Peter Parks, an affiliate marketing dynamo, flew in from Canada to give the Schramko students some priceless tips on making money by selling products created by other people, for massive commissions.
Buzz Marketer, Dean Hunt, traveled from the UK, to talk about the power of creating compelling headlines and using social media to create a loyal customer base.
SEO Champ, Aussie Steve Ovens, perhaps the most technically focused speaker, was able to translate SEO geek into easy-to-grasp concepts that left the participants gob-smacked.
SEO content expert, Kerry Finch, also from Australia, delivered the key steps to writing powerful articles and discussed how to leverage them to create a wave of search engine traffic.
Another unassuming Aussie, Kyle Tully, created some massive 'ah-ha' moments when he revealed the potential for creating a consultancy business, and the techniques used for instantly tapping into the traditional business market.
The Schramko Difference
These internet marketing events from Schramko are now setting the coaching standard. The overseas speakers were amazed firstly at the amount of quality information that James shares with his students, but at the calibre of those returning 'refresher' students who are already profiting from Schramko's mentorship.
Because he is an innovator, Schramko is sharing cutting-edge strategies from his Internet Marketing testing lab with his students. There is no recycled or untested material in FastWebFormula; it is fresh information that has not been shared with others. Those learning from him are absolutely ahead of the pack in:
Online business strategies
Cutting-edge tools and techniques
Emerging trends and opportunities
Ethical marketing principles
The Expert's Expert
James Schramko has become the expert that other internet marketing 'gurus' follow closely in order to keep up with trends and technology. He understands why others emulate his strategies – it is because they are new and relevant in the dynamic internet business environment.
However because he is an innovator, he is always one step ahead – and because he does share with his students before making announcements to the world, they are in the box-seat to be able to implement, and they have the tools to be able to implement quickly.
Second and Final FastWebFormula for 2010
His FastWebFormula was over-subscribed, selling out weeks before the event took place, and the 220 students who were able to secure places left with a mindset of 'taking massive action, now'. For those who missed out though, a second and final FastWebFormula will be held in Sydney, 10-12 September 2010.
Participants traveled from Dubai, the US, Canada, UK, China, New Zealand, and across Australia to be at the March event, and all agreed the airfare was a wise investment in their businesses.
There is little doubt that FastWebFormula2.0 will also sell out with the addition of some new International experts (one of whom is John Carlton - John is regarded as "the world's greatest living copywriter").
For more information on FastWebFormula:
http://www.fastwebformula2.com
For more information on James Schramko:
http://www.InternetMarketingSpeed.com
or contact Kerry Finch
(Skype kerry.finch, or phone +61 412656208).
About James Schramko:
James Schramko is a Sydney based Internet Marketer who fired his boss in May 2008. Since then his internet marketing business has grown exponentially. James has not just mastered the essential skills you need to be a success on the internet, but he is applying them in innovative ways that have skyrocketed him to international renown.
Before developing his own information products and internet marketing tools, James started making money on the internet in a way we all can by selling other people's products as an affiliate often earning a high commission per sale, without having a product, or the responsibility of stocking and delivering it.
James has developed several information products and automated profit systems that are in demand by the top internet marketers around the world (and they now call him for advice!).
A gifted speaker, James announced in late 2009 his decision to withdraw from multi –speaker events to focus more on internet marketing, product development and innovation, and mentoring students in high-level and ethical internet marketing.