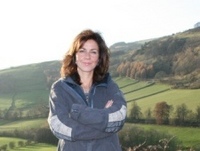 (PRWeb UK) April 7, 2010
President of Friends of the Peak District (FPD) and popular TV presenter, Julia Bradbury, commenting on the recently launched brand new website for the CPRE charity, claimed that the much-improved site was 'great, easy to use and packed full of information'.
Designed by Hathersage based Hammer Design, the new website can be seen at http://www.friendsofthepeak.org.uk and explains the role of FPD in protecting the UK's first National Park from inappropriate development as well as details on how to become a 'Friend' and more.
Julia, one of the main presenters of the popular BBC Countryfile programme, featured the Peak District on the most recent show (broadcast Sunday March 28th) and was seen enjoying a Dovedale walk and fly-fishing with her father as well as interviewing the Duke of Devonshire following a £14,000,000 'facelift' at Chatsworth, one of the nation's favourite stately homes.
Julia has been President of FPD since 2008 following in the footsteps of fellow Sheffielder Roy Hattersley who still lives in the Peak District and who, nowadays, is a full-time writer. Julia's love of the Peak District stemmed from the age of 6 when her father brought her out to the likes of Monsal Dale and the Monsal Trail (featured in the recent Railway Walks series also on BBC) which still holds great nostalgia for her.
Friends of the Peak District relies heavily on contributions and annual fees from its many 'Friends' not least of whom is the charity's only 'Corporate Partner' - Peak District accommodation portal Let's Stay Peak District, (http://www.peakdistrict-nationalpark.com), a private company owned and run by Mike Cummins, a lifelong Derbyshire resident and keen Peak District fan for more than 40 years.
"I started the Let's Stay business in 2001 when the Peak District was celebrating 50 years as the UK's first National Park. Next year it will be celebrating its 60th - I don't know where the years go anymore!" says Mike.
"I also notice that the South Downs, today (March 31st), becomes the latest area to be designated National Park status, so it's vitally important that organisations like FPD continue to flourish to protect these important areas from inappropriate development in the future - and I very much applaud the new website which is a dramatic improvement over the previous site. "
Mike is also helping FPD with the optimisation of the new website for greater search-engine visibility - something he's taught himself to do since the Let's Stay business began and one of the reasons why he has more than 320 Peak District Cottages (amongst many other types of accommodation) on the site.
"With a nationally recognised and youthful figurehead such as Julia Bradbury on board and, now, a highly visible website to be proud of - FPD has a great chance of furthering its aims over the coming months and years. I'm delighted to do my bit to help the cause and I wish them well for the future" added Mike.
Friends of the Peak District is a the Peak district national park charity number 1094975
Let's Stay Peak District is a member of Let's Stay UK Ltd - supporting and promoting UK holidays and sustainable tourism. Let's Stay Peak District is a Corporate Partner of FPD.
###